THI's 2021 Wildfire Relief Efforts: One Year Update
August 31, 2022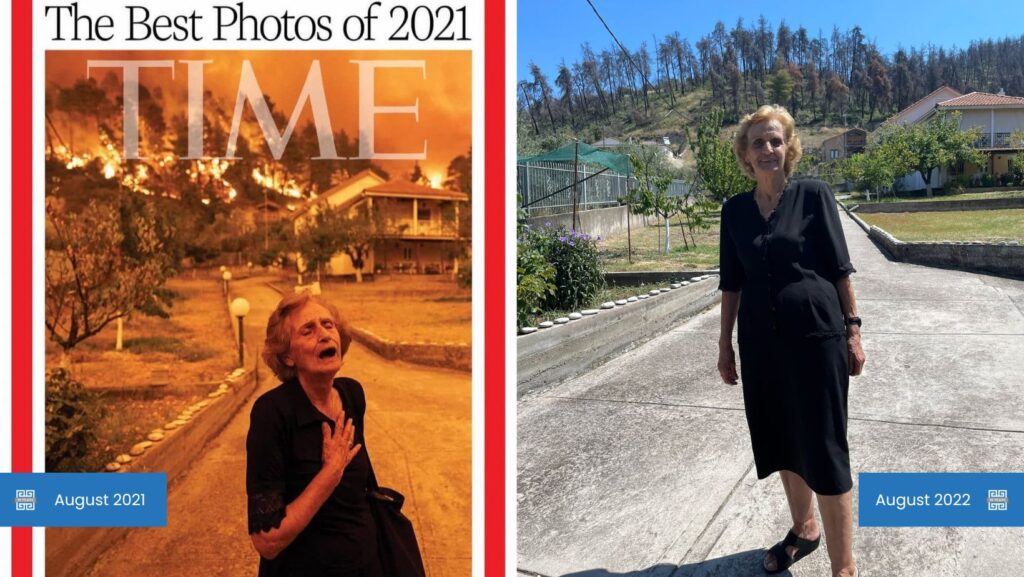 The wildfires of 2021 were the worst in Greece since 2007, damaging over 300,000 acres of land, primarily in Attica and Evia.  In August 2021, The Hellenic Initiative launched a wildfire relief campaign in response to the crisis and raised $538,936 from 4,500 supporters in 47 countries. We are writing to update the entire THI family on the uses of THI's 2021 Wildfire Relief Fund. In the past year, your generosity has had a significant impact – restoring lands, livelihoods, and hope.
The photo of Yaya "Youla" (above)  in front of her burning home on the island of Evia became one of Time Magazine's Top Photos of 2021. When THI caught up with Yaya Youla several weeks ago, she stated, "It was a big disaster, however, our forest is being born again, day by day. Thank you to THI for supporting our forest, our society, Greece and Greeks."
THI adopted a 3-pronged approach to our wildfire relief efforts:
USES OF THE THI 2021 WILDFIRE RELIEF FUND
Fire-Fighting Equipment ($200,000): With direction from the Greek National Fire Service, THI purchased 5 pickup trucks to be deployed in Attica, to provide much-needed transport of fire equipment in areas underserved by government funding.
Replacement of Bee Hives ($92,787).  Over 40% of the beehives providing Greece's honey production were destroyed in the fires of 2021.  THI replaced 2/3 of the beehives in Laconia and 1/4 of the beehives of Evia and provided sustainable beekeeping training to recipient beekeepers. These hives will restore and grow the livelihoods of these beekeepers and their families within 1-2 years.
Reforestation – Planting of Trees ($75,000).  In partnership with We4All, THI has planted 4,200 trees outside Athens and in Evia on devastated lands.  These olive, carob, almond, and other trees are not only flame-resistant varieties but have restored the livelihoods of many farmers whose crops were burned in the fires.
THI is currently in process of due diligence for appropriate allocation of the remaining funds.  These will likely be deployed in the planting of additional trees in Greece and fire-fighting equipment for volunteer fire brigades. All donors to the 2021 WIldfire Relief Fund will receive a more detailed report on the uses of funds. A final report at the end of 2022 will also be forthcoming.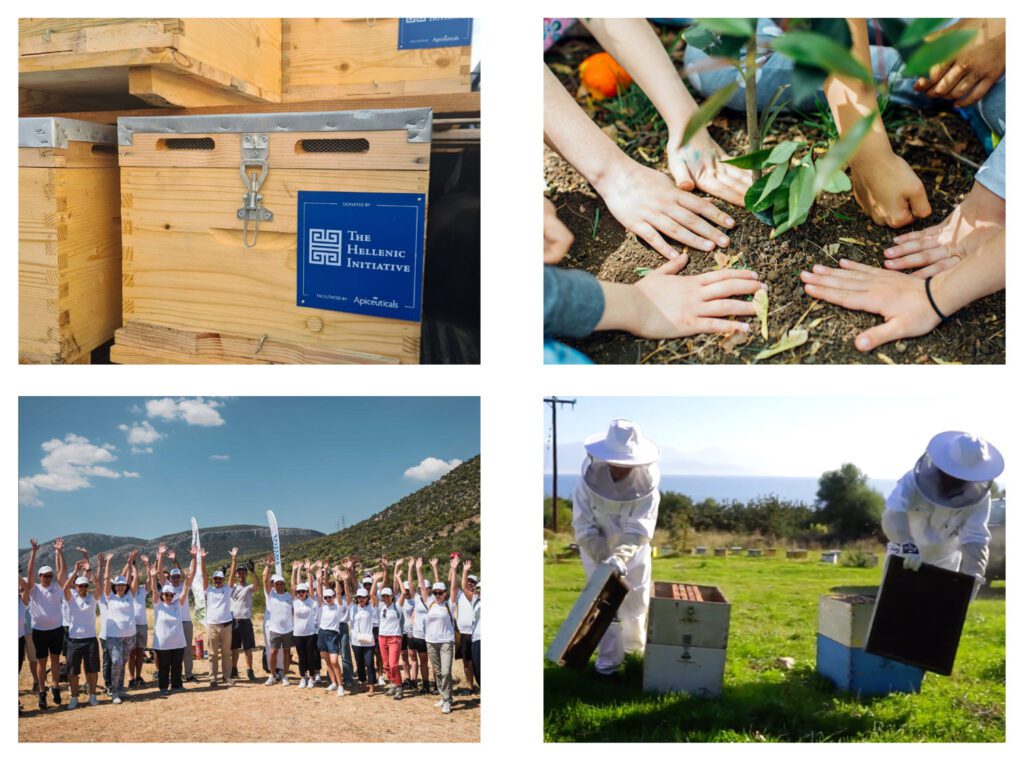 WHAT GREW FROM THE ASHES
In connection with our reforestation efforts above,  THI investigated other Diaspora organizations with significant tree planting initiatives, including the Jewish National Fund.  Established in 1901, the JNF has planted over 240 million trees in Israel, funded largely by Diaspora contributions. From these investigations came the inspiration for a new program, and THI's "Plant a Tree in Greece" was born.  Launched in May 2022, Plant a Tree in Greece allows Greeks and Philhellenes globally to plant a tree in Greece for $25 to mark significant life events while supporting Greece and its people. The Program's goal is to plant one million trees in Greece. The initiative has raised $40,000+ in its first three months.
From the ashes of the Greek wildfires of 2021,  Plant a Tree in Greece will live in perpetuity, supporting the land and livelihoods of the country we love.  Click here to learn more or to plant a tree in Greece.
THANK YOU TO OUR DONORS
The work of restoring Greece's land and the livelihoods lost in the wildfires of 2021 would not have been possible without your generosity.
Thank you for responding to the call
for Greece and the Greek people.
#OliMazi