THI/TNH Takeover – Zachary Lountzis
May 25, 2021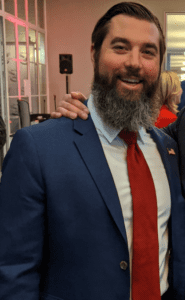 The National Herald and The Hellenic Initiative have begun a partnership to introduce the NEXTGEN of Greek/Cypriot 'movers and shakers' to the rest of our Diaspora community around the world. Established to inform its readers about all things related to our homeland and its respective communities throughout the world, TNH is now providing THI's New Leaders (40-years-old and younger), with a new platform to showcase their ideas and to engage their communities in a deeper, more meaningful way while simultaneously building a bridge to Greece and Cyprus. Our next featured New Leader is Zachary Lountzis. Get to know him below!
Last Name, First Name
Lountzis, Zachary
Alma mater?
University of Arizona
What city do you live in?
New York City
Where in Greece are you from?
Katouna (NW of Agrinio)
Occupation?
Investment Manager
What motivated you to get involved with The Hellenic Initiative?
I was originally introduced to the organization via the annual gala in NYC through friends and family relationships. After learning more about New Leaders, I felt I could help in a small way and was eager to become more involved.
What do you hope to achieve through The Hellenic Initiative?
Building closer relationships with Greeks and Greek-Americans across various professional fields while together aiding Greece (and the Greek Diaspora) to more fully reach its potential. We are among the most storied cultures and bases of knowledge that humanity has ever known; this is under-reflected in most professional fields today.
The Hellenic Initiative's Connect the Dots Mentorship Program is at the heart of what much of THI stands for: leveraging the global Greek community to support entrepreneurial Greeks at home. As an honored inaugural member of this Program, I have had the privilege of building a relationship with and learning more about a brilliant entrepreneur and his vision for improving both food production and our impact on the climate via a unique set of innovative technologies that span agriculture and biotech. As the program progresses, I look forward to adding value where I can and to sharing my mentee and I's collective feedback for improvement. This is an exciting and promising program and I am thrilled to be a small part!
Favorite activity to take part in where you live?
Rotating through my favorite Greek restaurants, of course. Loi Estiatorio, Avra, and Kiki's.
Favorite place to take your non-Greek friends when they visit you in Greece/Cyprus?
Lefkada
Go-to Greek dish/drink when you're missing the homeland?
Avgolemono
Favorite Greek product you can find outside of Greece?
Any Greek-originated olive oil or red wine
Top three people of Greek descent you admire:
Socrates
Aristotle Onassis
Maria Loi
In addition to THI, how are you involved in/help the Greek/Cypriot community?
I am a proud member of the National Hellenic Society, where I was privileged to be selected for the organization's inaugural Heritage Greece Program in 2010. My involvement in NHS helps me to spread the organization's mission while paying tribute to my heritage.
I am also a member of the Hellenic American Leadership Council (HALC) and a brother in AHEPA's NYC chapter.
What is the biggest crisis Greece/Cyprus faces today?
Establishing a political and structural identity independent of the EU/USA.
One piece of advice an elder has given you that has proved invaluable?
Do the work required to hold an opinion.
"I never allow myself to have an opinion on anything that I don't know the other side's argument better than they do" – Charlie Munger.
Favorite quote from a Greek philosopher?
I must pick two:  "It is the mark of an educated mind to be able to entertain a thought without accepting it" – Aristotle; and this second is apocryphal, but fun nonetheless: "My advice to you is get married: if you find a good wife you'll be happy; if not, you'll become a philosopher" – Socrates.
One Greek tradition you'll never stop keeping?
Attending the Easter Orthros Service of the Resurrection. I travel a lot for work and have attended services at churches in Pennsylvania, Arizona, NYC, Los Angeles, and Omaha.
How has your Hellenic background helped shape who you are today?
My grandparents immigrated to the U.S. via Ellis Island after the Greek Civil War in the early '50s. The values they passed down to my siblings and me around faith, family, and community continue to serve as clear paths for us to follow as we navigate our own lives. These values reflect the tight links between ethnicity (Greek) and religion/value-structures (Orthodox Christianity) that are relatively uncommon in the 21st century, and together form what we refer to today as Hellenism.
I am thankful to have been raised with Hellenistic values (and need to keep improving upon my Greek language skills!)
Life Motto?
"Everybody has a plan until they get punched in the mouth" – Mike Tyson