James Neary Joins THI Board of Directors Noted Private Equity Leader Brings Energy and Imagination to THI
March 8, 2021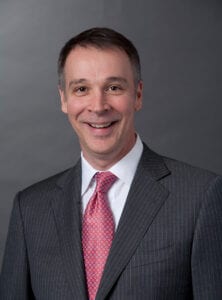 The Hellenic Initiative (THI), a global nonprofit institution mobilizing the Greek diaspora and Philhellenes to invest in the future of Greece, is pleased to announce that executive James "Jim" Neary, Managing Director, Co-head of U.S. Private Equity and member of the Executive Management Group of the global private equity firm Warburg Pincus, has been named to its Board of Directors.
The Hellenic Initiative was founded in 2012 by members of the global Greek and philhellene communities like Neary who felt compelled to respond to Greece's economic crisis and were inspired to help shape Greece's long-term recovery. 
During his career at Warburg Pincus, Mr. Neary has led Industrials, Healthcare, and Business Services; Late Stage Technology-enabled Services; Technology, Media & Telecommunications and Capital Markets.
Prior to joining Warburg Pincus in 2000, he was a Managing Director at Chase Securities. Mr. Neary is the Chairman or Board Member of several companies including Allied Universal, Consolidated Precision Products, Duravant, Sotera Health and WEX. Among other public and private companies, he has previously served on the Boards of Endurance International Group, Hygiena, Fidelity National Information Services, Inc., Interactive Data Corporation, InComm Holdings, Coyote Logistics, EFS (Electronic Funds Source) and Alert Global Media Holdings. 
Mr. Neary is on the Board of Trustees of The Mount Sinai Health System, Eaglebrook School and the Lincoln Center for the Performing Arts. In addition, he is the Co-Chair of the President's Council at Tufts University. He received a B.A. in Economics and Political Science from Tufts University and an M.B.A. from the J.L. Kellogg Graduate School of Management at Northwestern University, where he was the Eugene Lerner Finance Scholar.
Jim's personal connections to Greece are typical in the Greek Diaspora, but like other THI supporters and his fellow board members, he is distinguished by his passion and desire to make a real difference in the land of his forebears. 
"I was raised Greek Orthodox and grew up steeped in the traditions of the Orthodox church and the Greek holidays," Neary said. "I have traveled to Greece with my extended family several times."
George P. Stamas, THI Board President, stated: "James Neary is the kind of dynamic and visionary leader that will help guide THI efforts as Greece makes the leap from recovery to thriving economy."
Peter J. Poulos, THI Executive Director stated: "This year every forecast – short, medium and long term – has been cast into doubt and James Neary is exactly the kind of person to help THI address the challenges and opportunities of a Post-COVID world for Greece and Cyprus." 
For more information please visit the site of the program: www.accelerategreece.com