Dimitrios Athanasopoulos Built a Firm That is Helping Build the New Greece
June 29, 2020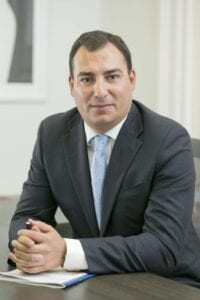 The world has changed dramatically in the blink of an eye, and for Greece to adapt and benefit from the new reality, it needs people with powerful vision and intuition at the helm of its companies – and to partner with institutions like the Hellenic Initiative that have been helping to build the New Greece. 
Dimitrios Athanasopoulos is a Founding Partner, Group Managing Director, and member of the Executive Committee of AXIA Ventures Group, Ltd., which has been among the most trusted centers of expertise in investment banking, institutional trading, and alternative investment services in recent years in Greece. 
They are advisors on important banking sector projects and were the exclusive advisor for the largest merger in Greece in 2019 – between Grivalia Properties and Eurobank. "AXIA is the lead underwriter for Lambda Development for the money that was raised for the Hellenikon project," Dimitrios said. 
AXIA is a reflection of both the talent and the ethos of Dimitrios, who invests much time and energy in the firm's recruiting efforts. 
Born in Manhattan with roots in Athens and Sparta and raised in Greece, he moved back to New York for his higher education, drawn both by the American way –  "the emphasis on progress, and capitalist democracy in the best sense, the freedom to pursue your dreams in whatever you want to do" – and the energy and multicultural matrix of New York, he said. 
Dimitrios was drawn to the entrepreneurial world and wanted to work in finance and investment from his youth, a desire engendered by his father, who was involved with investments locally in Greece, and reinforced during summers off from his undergraduate studies in New York when he worked the floor of the Athens stock exchange – and where he sensed Greece's economic potential.
His faith has not been dented by COVID-19.  "I think Greece has done a tremendously good job tackling COVID-19 and it has put Greece on a very credible path in the eyes of the world. We saw great leadership. This is what I expected from Kyriakos Mitsotakis." He was especially impressed with the implementation and leadership Greece displayed. "We have shown to the world that we have a very credible leadership and a country that can function and work with confidence … and this will be a catalyst for investment to follow." 
In the Post-COVID world countries will compete strongly for that capital, but he believes that is an opportunity for The Hellenic Initiative and companies like AXIA to guide capital to Greece. 
Regarding how COVID-19 is changing the world, Dimitrios says that while "this crisis accelerated the use of technology … at the end of the day, personal contact and interaction will still be important … people tend to forget about these things" – the COVID-10 measures – "and move on. They will improve their lives using the technology, but eventually they will return to their normal habits." 
He agrees, however, that more people will be working from home, and believes "this can have a tremendously good impact on society, on family, and the environment. He also thinks COVID-19 will reverse the past 50 years' drive into urban centers, "especially for people that are wealthy. Because of terrorism and diseases like this one," they will start making other decisions about where to live, because with technology they don't have to be in a particular place. They will make decisions based on security and lifestyle."
And for Greece, it's an opportunity to reverse brain drain. "I think it can work," he said.
Foreign capital being vital to job creation, AXIA is at the heart of the transformation of Greece and Dimitrios shared the motives for its creation. "I saw that the big global investment banks were able to do business and compete in Greece, so I thought 'why don't we create something that is international but at the same time very local and very knowledgeable about what's going on locally in countries. We started out in Greece and Cyprus and now we have expanded to Italy, Portugal, and New York – and a satellite presence in London. The idea is to connect the very large pools of capital with opportunities in this specific geography."
"My second motivation was the fact that I saw so many unbelievably talented and qualified Greeks who would love to go back to Greece, but they didn't have the proper firms that would respect, reward, and motivate them and challenge them." AXIA is now such a magnet for talent and deals, with close to 40 people in Athens and a $100 million threshold for transactions. In the past 12 years, they have executed 35-billion-euro worth of business. 
Their success is derived, Dimitrios said, "from some basic principles. You have to work very hard with ethics and consistency and be very strict about priorities and the way you conduct yourself – with confidentiality. And we invest a lot in knowledge and expertise."
AXIA recruits people from the world's top firms "who joined us based on their absolute merit and track records … we liberated these people," and brought them to Greece.  
"My two partners are two unbelievably capable guys – Antonios Achilleoudis from Cyprus, and George Linatsas of Athens, one of the first people to spotlight the Greek capital market in the 1990s … In addition to the business side, we share the same values" – including love and hope for Greece. 
"I am very proud to be Greek and we were involved with THI from the start. I learned about it from people I know who are on the Board. We have been donating money consistently every year and I try to help with different practical elements, about investing in Greece and how to get closer to companies, and create economic momentum. I have also spent time with companies for mentorship. We try to do everything we can." AXIA is a Corporate Ambassador and provides THI's office space in Athens.
Dimitrios noted that, "THI has done a tremendously good job trying to help Greece from a mentality perspective, to ignite in Greeks the idea that they can do things, and to provide them with connectivity and support – that is very useful and important. I also think many young entrepreneurs have been motivated by being able to get ideas from successful people. That counts a lot." 
He adds about THI's endeavors that, "it has helped a lot for the Diaspora to be connected with today's Greece rather than the Greece people have in their minds based on what they hear from their parents and their family. The constant interactions, the events, the galas provide a much more real picture of what is happening and what is needed in Greece, and I think it has motivated people from the Diaspora to get involved and pay more practical attention to Greece."