THI/TNH Takeover – Georgia Belesis
February 6, 2023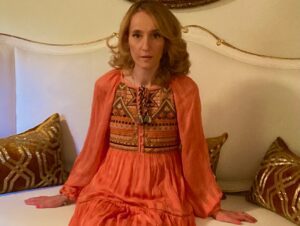 The National Herald and The Hellenic Initiative have begun a partnership to introduce the NEXTGEN of Greek/Cypriot 'movers and shakers' to the rest of our Community around the world. Established to inform its readers about all things related to our homeland and its respective communities throughout the world, TNH is now providing THI's New Leaders (40-years-old and younger), with a new platform to showcase their ideas and to engage their communities in a deeper, more meaningful way while simultaneously building a bridge to Greece and Cyprus. Our next featured New Leader is Georgia Belesis. Get to know her below!
Last Name, First Name
Belesis, Georgia
Alma mater?
Queens College and Concordia University, Chicago
What city do you live in?
Closter, New Jersey
Where in Greece are you from?
Monemvasia
Occupation?
Teacher
What motivated you to get involved with THI?
The opportunity of being an authentic servant leader and contributing only a fragment to a country that has provided me with the ethical, academic, and professional principles of my identity.
What do you hope to achieve through THI?
One of my objectives through THI would be to assist in the development of programs that adhere to the needs and interests of Greece. For example, programs in education…
Favorite place to take your non-Greek friends when they visit you in Greece?
The castle of Monemvasia
Go-to Greek dishes when you're missing the homeland?
Pastitsio & Spanakopita
Favorite Greek products you can find outside of Greece?
Loumidis Greek Coffee and Ion Chocolate
Top three people of Greek/Cypriot descent you admire
Antonis Samarakis
Anna-Psarouda Benaki
Konstantinos Karamanlis
What is the biggest crisis Greece faces today?
The economic crisis that is especially affecting the younger generation of Greeks.
One piece of advice an elder has given you that has proved invaluable?
Every stepping stone is a milestone.
Favorite quote from a Greek philosopher?
"Wonder is the beginning of wisdom." Socrates
One Greek/Cypriot tradition you'll never stop keeping?
Having dinner every night as a family.
How has your Hellenic background helped shape who you are today?
The primary components of my ethical beliefs that synchronously guide my mind, body, and soul personally and professionally are reinforced upon the trinitarian symbiosis of my Greek Orthodox Christian religion, the Platonian & Aristotelian virtue ethics. Correlated with my Christian faith as the guiding constituent of my ethical principles are the Platonian and Aristotelian ideals of virtue ethics. Borgmann (2006) within his respective study, suggests that the Ancient Greek ideals of moral excellence can establish the social, political, and economic framework for future societies.
Life Motto?
"We are what we repeatedly do. Excellence, then, is not an act, but a habit." Aristotle