THI/TNH Takeover – Stefania Skouras
March 3, 2023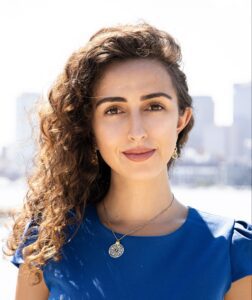 The National Herald and The Hellenic Initiative have begun a partnership to introduce the NEXTGEN of Greek/Cypriot 'movers and shakers' to the rest of our Community around the world. Established to inform its readers about all things related to our homeland and its respective communities throughout the world, TNH is now providing THI's New Leaders (40-years-old and younger), with a new platform to showcase their ideas and to engage their communities in a deeper, more meaningful way while simultaneously building a bridge to Greece and Cyprus. Our next featured New Leader is Stefania Skouras. Get to know her below!
Last Name, First Name
Skouras, Stefania
Alma mater?
Massachusetts College of Pharmacy
What city do you live in?
Boston
Where in Greece are you from?
Glyfada
Occupation?
Scientist
What motivated you to get involved with THI? To give back to a country that has given me everything. From language, mannerisms, food, and values.
What do you hope to achieve through THI?
I hope to connect with more thought-leaders in the Hellenic community, so that we can act together and provide relief to the people of Greece.
Favorite activity to take part in where you live?
My favorite activity is spending time with my family on the weekend. We always share dinner together on the weekends and usually are planning our next trip to Greece.
Favorite place to take your non-Greek friends when they visit you in Greece?
The Areopagus right next to the Acropolis in Athens is my favorite place to end the night with my friends in Athens. You get the best view of all of Athens overlooking the ancient Agora and beyond.
Go-to Greek dish when you're missing the homeland?
Gigantes
Favorite Greek product you can find outside of Greece?
Feta
Top three people of Greek/Cypriot descent you admire
1. Socrates
2. Giannis Antetokounmpo
3. My mom
In addition to THI, how are you involved in/helping the Greek/Cypriot community?
I am the President of a non-profit organization called Women Accelerators. We provide a community for women to have access to resources to excel in their career. While this is not about exclusively helping the Greek/Cypriot community, due to my Greek background many of the women who reach out for help are Greek!
What is the biggest crisis Greece/Cyprus faces today?
Job shortages/opportunities. The type of career the youth of Greece can have is very limited, often limited to the tourism industry. My goal is to provide more opportunities for the people of Greece to find roles in the technology and health sectors.
One piece of advice an elder has given you that has proved invaluable?
Those who do not have a mind, have legs [to backtrack and correct their mistakes].
Favorite quote from a Greek philosopher?
"I know that I am intelligent, because I know that I know nothing" – Socrates
One Greek tradition you'll never stop keeping?
Embellishing my home with evil eye protectors and wearing evil eye jewelry.
How has your Hellenic background helped shape who you are today?
If I had to count my blessings, I would count Greece twice. When I think to myself I could have had any ethnic background, I realize I am blessed to be Greek. My Hellenic background has influenced so much of my character, my mannerisms, the way I approach life & love, the way I embrace who I am as a person, my fashion style, my spirituality – and most of all my need to always go back to Greece.
Life Motto?
Be fearless.