THI/TNH Takeover – Sandy Papadimitriou
November 17, 2021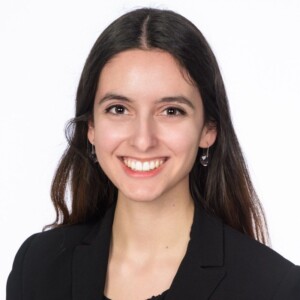 The National Herald and The Hellenic Initiative, have begun a partnership to introduce the NEXTGEN of Greek/Cypriot 'movers and shakers' to the rest of our Diaspora community around the world.
Established to inform its readers about all things related to our homeland and its respective communities throughout the world, TNH is now providing THI's New Leaders (40-years-old and younger), with a new platform to showcase their ideas and to engage their communities in a deeper, more meaningful way while simultaneously building a bridge to Greece and Cyprus. Our next featured New Leader is Sandy Papadimitriou. Get to know her below!
Last Name, First Name
Alma mater?
University of California, Berkeley
What city do you live in?
Where in Greece are you from?
Born and raised in Athens.
Occupation?
What motivated you to get involved with THI?
I admire THI and its empowering mission to bring about change in our homeland and our people by providing crisis funding, assisting several hospitals and Greek start-ups, and advising the Greek government, among others. The Hellenic Initiative's people, work and mission have inspired me and have established that this organization has the ability to incubate and deliver results for the people of Greece. Raised in Greece and having witnessed the aftermath of the economic crisis, I truly want to work along with all the other fervent THI New Leaders to extend and ameliorate THI's footprint and engagement in Greece.
Favorite place to take your non-Greek friends when they visit you in Greece?
The Temple of Poseidon in Sounio, Athens, is a must for all visitors! I usually drive my friends to the port of Lavrio for fresh fish first and we then head to Sounio after lunch. This stunning archeological site is an amalgamation of Greek beauty: imposing white marbles next to pristine Greek nature. The sunset is absolutely breathtaking too. Coffee and drinks at the nearby hotel is also a great way to wrap up the visit.
What is the biggest crisis Greece faces today?
Low birth rate. Elderly Greek population is projected to be more than double the younger population by 2050. This, in conjunction with Greece's extended brain drain, may have everlasting financial and social consequences in the country.
One piece of advice an elder has given you that has proved invaluable?
"No amount of money ever bought a second of time."
Favorite quote from a Greek philosopher?
"What you leave behind is not what is engraved in stone monuments, but what is woven into the lives of others" – Pericles.
One Greek/Cypriot tradition you'll never stop keeping?
Probably eating as well, but definitely dancing.
How has your Hellenic background helped shape who you are today?
I grew up during the Greek financial crisis, which taught me that hardship can knock at your door at any time, so you always need to be resilient, hard-working, innovative and curious so as to prosper under tough circumstances.
Life Motto?
Hardships often prepare ordinary people for an extraordinary destiny (originally said by C.S. Lewis).