THI/TNH Takeover – Peter Manuselis
October 19, 2021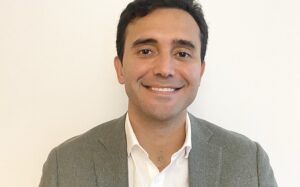 The National Herald and The Hellenic Initiative, have begun a partnership to introduce the NEXTGEN of Greek/Cypriot 'movers and shakers' to the rest of our Diaspora community around the world.
Established to inform its readers about all things related to our homeland and its respective communities throughout the world, TNH is now providing THI's New Leaders (40-years-old and younger), with a new platform to showcase their ideas and to engage their communities in a deeper, more meaningful way while simultaneously building a bridge to Greece and Cyprus. Our next featured New Leader is Peter Manuselis. Get to know him below!
Last Name, First Name
Alma mater?
The Ohio State University
What city do you live in?
Where in Greece are you from?
My parents are from Sfakia, Crete.
Occupation?
Investment banker and a moonlighting writer.
What motivated you to get involved with THI?
My Greek heritage is near and dear to my heart. I was born and raised in the United States to Greek immigrant parents, and I have to admit that it took until I was in my late twenties to come to realize that my Greek heritage was something to be proud of. I feel a responsibility to myself (and my family) to never lose sight of what it means to be Greek and to play my part to help bring together the Greek Diaspora by reconnecting them to their roots in a philanthropic way.
Today, I live in New York City, but as I grow older, I am more pulled to Greece and I hope to live there again someday, but at the very least, through THI, I know that I'm still connected to Greece and doing my part to help the country that has given so much to the world in areas like science, literature, art, and medicine.
What do you hope to achieve through THI?
I lived in Greece from 2015 to 2016. I took a deep dive into the culture to better understand my American and Greek dichotomies. I wrote a book about my experiences that I've published called, "Perspective: A Greek American Finding His Way in Greece." I would love nothing more than to share my wisdom and experiences with younger Greeks of the Diaspora that leads to increased awareness of THI's mission and more active participation. I would love to act as a mentor, a friend, and a collaborative partner in all efforts related to Greece.
Favorite activity to take part in where you live?
When I lived in Greece in a cottage next to the sea, it was always my greatest delight to go for swims during the evenings. In New York City, where I live in the Gramercy Park neighborhood, I love to take long jaunts throughout the city and serendipitously discover new shops and restaurants, preferably those that are Greek!
Go-to Greek dish/drink when you're missing the homeland?
Favorite Greek product you can find outside of Greece?
Top three people of Greek/Cypriot descent you admire?
Nikos Kazantzakis (Writer of Zorba the Greek)
CP Cavafy (Poet of the famous poem Ithaka)
Ioannis Vlachos (AKA Daskalogiannis, who was a wealthy shipowner who sacrificed it all to lead Crete's first rebellion against the Ottoman empire.)
What is the biggest crisis Greece/Cyprus faces today?
As an old lady in Chania once told me, "the crisis they talk about, it's all in the head. What do you want me to do? To cry and bury myself in my bed. We have the sun. We have the sea. My garden is full of fruits and vegetables."
With that so poignantly said, I think we need to be sure we don't lose our sea, our sun, our incomparable landscape. Greece needs to define their own way, much like the Ancient Greeks had done. Let's not assume the American way is the right way. Because Greece doesn't have the industries like America, that also means they don't have the environmentally destructive ecosystem, so inherently, if Greece does it right – they can define a transcendent way in how the rest of the world thinks about living in an environmentally sustainable way that is still profitable.
One piece of advice an elder has given you that has proved invaluable?
In Greek, "σιγά, σιγά, κερδίσεις η ζωή." Meaning, patience and pace is the way to a long and prosperous life.
Favorite quote from a Greek philosopher?
"By believing passionately in that which doesn't exist, you create it and that which has not been sufficiently desired is what we call the non-existent." Nikos Kazantzakis
How has your Hellenic background helped shape who you are today?
It keeps me anchored in a way of life that means to live dignified, spirited, and as a free human being.
Life Motto?