THI/TNH Takeover – Christina Panagiota Moniodis
June 18, 2022
The National Herald and The Hellenic Initiative have begun a partnership to introduce the NEXTGEN of Greek/Cypriot 'movers and shakers' to the rest of our Community around the world. Established to inform its readers about all things related to our homeland and its respective communities throughout the world, TNH is now providing THI's New Leaders (40-years-old and younger), with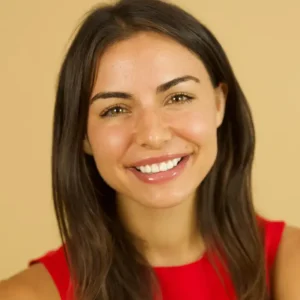 a new platform to showcase their ideas and to engage their communities in a deeper, more meaningful way while simultaneously building a bridge to Greece and Cyprus. Our next featured New Leader is Christina Panagiota Moniodis. Get to know her below!
Last Name, First Name
Moniodis, Christina Panagiota
Alma mater?
Yale Law School & The University of Michigan
What city do you live in?
Where in Greece are you from?
The islands! Chios and Lesvos.
Occupation?
Businesswoman & Attorney.
What motivated you to get involved with THI?
To connect with high-performing professionals dedicated to helping Greece
THI is among the best for operating in both Greece and the U.S. I wanted to join such a community where I could participate meaningfully from both countries.
What do you hope to achieve through THI?
I helped create THI's mentor program for Greek startups. I hope to continue experimenting with new initiatives with THI's energetic team.
Favorite activity to take part in where you live?
It's a tie between biking the city and beach and attending Miami startup events.
Favorite place to take your non-Greek friends when they visit you in Greece?
Athens has the best museums in the world. The Acropolis Museum, Epigraphic Museum (hidden gem!), Archaeological Museum, Benaki, Byzantine Christian Museum, Cycladic Art, and more!
Go-to Greek dish when you're missing the homeland?
Favorite Greek product you can find outside of Greece?
Ion chocolate. I swear I can taste Greece in it.
In addition to THI, how are you involved in, how do you help the Greek/Cypriot community?
I served as Executive-in-Residence at VentureFriends, a VC fund in Athens. I've also been a Hellenic-American Chamber of Commerce young professional board member and a Sunday School teacher where I co-taught with my father.
What is the biggest crisis Greece/Cyprus faces today?
Demographics – it's an aging and shrinking population. Greece is becoming the fastest aging population in the EU.
One piece of advice an elder has given you that has proved invaluable?
A Greek proverb: Κάθε αρχή και δύσκολη / Every beginning is difficult.
Favorite quote from a Greek philosopher?
ἦθος ἀνθρώπῳ δαίμων/Character is fate – Heraclitus.
One Greek/Cypriot tradition you'll never stop keeping?
Icons in my home. I have favorites I will always keep – from Mt. Sinai, Chios, Patmos, Aghia Sophia, and more.
How has your Hellenic background helped shape who you are today?
I feel as though I have different lenses that I can wear to view the world. Around my American lens I also have my Yiayia's 'old country' lens as well as my parents' Greek-American lens. It's a beautiful experience of stepping into different perspectives and finding my way.
Life Motto?
Turn weaknesses into strengths.