THI Supports Greek Film Industry With Two $20,000 Grants
June 28, 2023
Athens-based filmmaker and crew training builds talent pool in Greece for rising industry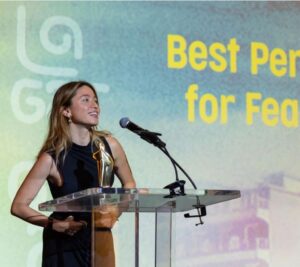 The Hellenic Initiative (THI) and The Global Greek Film Initiative (GGFI) have joined forces to accelerate the growth of Greece's film industry, one of the nation's most rapidly developing economic sectors. THI grants will facilitate filmmaker and crew training on the ground in Greece, to support job creation and career development for Greeks in these sectors. 
Founded in 2012, THI is a global non-profit organization that brings together Diaspora Greeks and Philhellenes to invest in Greece today through programs focused on economic development and crisis relief. Since its founding, THI has invested approximately $20 million in Greece and is the largest Greek Diaspora organization in the world.
GGFI was founded by Los Angeles Greek Film Festival (LAGFF) Board Members Lia Bozonelis and Ersi Danou, and LAGFF Director Aris Katopodis. The endeavor is "strategically designed to establish an array of new annual programs to promote cultural exchange between Greece, the U.S. and the Hellenic Diaspora, service opportunities for employment and economic growth within Greece, and be the North American hub and global one-stop collective for Greek film programs and initiatives," according to the GGFI website. 
In connection with the grants, THI co-hosted a sold out New Leaders event at the LA Greek Film Festival for the under the age of 45, New Leaders group.  A sold-out crowd enjoyed an evening of live music by Evangelia at the Sunset House in West Hollywood.  
The grants are part of THI's economic development mission, which constitutes 60% of THI's capital deployed to date in Greece. These grants will support job creation and economic development in Greece in the film-making industry, building on government incentives and current momentum driven by several major films being shot in Greece.
The first grant will benefit GGFI's very successful Discovery Days, a selective program that the LAGFF has run for nine years in Los Angeles, assembling industry experts to assist Greek filmmakers refining scripts, making production changes and developing ideas. For the first time, and with THI's help, the Discovery Days program will be brought directly to Greece.  GGFI will join Faliro House Oxbelly's efforts to professionally train Greeks in various film and television fields and further develop the Greek film industry infrastructure.
The second grant will focus on training film crews in Greece.  The aim is to create a pool of highly qualified film technicians in association with the Greek Film Center. After these 80-hour crew training workshops, all participants will be qualified to work in international productions as grips.
George Stamas, THI Board President, stated: "The progress of the Greek film industry has helped Greece on numerous levels – there is both an emotional and an economic multiplier effect. When movies are made in Greece, it benefits the country economically, but there is also free advertising for the country, as well as a boost of Hellenic pride in the Diaspora when we see the places we love on the big or small screen."
Andrew Liveris, THI Board Chairman stated: "It is not easy to build up an industry amid global competition – but that is what Greece is successfully doing in film. THI is glad to support Greece's film makers – especially younger Greeks aiming to build a successful career in the homeland."