THI Partners With Desmos For Turkey-Syria Earthquake Relief
March 31, 2023
THI's $55,000 Grant Provides Emergency Housing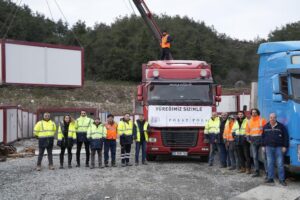 After last month's devastating earthquake, the Board of The Hellenic Initiative (THI) has responded to the massive humanitarian crisis in Turkey and Syria with a $55,000 grant to the Greek non-profit foundation DESMOS which will provide emergency housing for victims of the disaster. The donation will cover the cost of nine fully equipped containers, each of which accommodates six individuals. The containers provide much needed short and medium-term housing to families who were rendered homeless by the disaster.
Michael Printzos, THI's Program Manager, noted that "each container will come with an electric generator, a heater and of course six beds, mattresses and pillows."
Founded in 2012, THI is a global non-profit organization that brings together Diaspora Greeks and Philhellenes to invest in Greece today through programs focused on economic development and crisis relief. Since its founding, THI has invested over $20 million in Greece.
Also established in 2012, DESMOS is a non-profit organization which works closely with more than 1,000 charitable and public organizations across Greece. Desmos supports a wide range of social and humanitarian causes in Greece, with four areas of focus: Social Welfare, Building a Better Future (education, employment and community building) Healthcare, and Emergency Response and Recovery.
In response to the earthquake in Turkey and Syria, DESMOS has partnered with the Polat Foundation, a private foundation in Turkey which is active in the earthquake zone. Polat has already provided shelter for over 450 people in 70 housing containers and has provided 47 WCs and shower containers.
DESMOS, with whom THI has partnered in the past as a grantee, will ensure that the funds are allocated in a transparent and effective manner, helping as many families as possible and producing measurable impact. 
John Georges, THI Executive Committee member stated: "The donation for earthquake relief follows a recent THI grant of $50,000 to Desmos to help strengthen Greece's defenses against wildfires. Sadly, natural disasters will not go away, but when they strike, THI will be there, partnering with effective groups like DESMOS to ease the suffering."
Andrew Liveris, THI Board Chairman stated: "DESMOS is a long time and trusted partner of THI. We carefully reviewed their analysis of the need and plan for implementation. Desmos's work not only meets emergency needs but strengthens the humanitarian spirit in a troubled region."