THI Chairman and Industrialist Andrew Liveris on The Day After COVID-19
June 12, 2020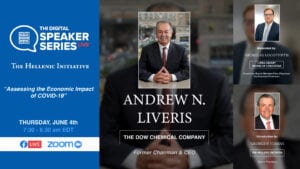 The new Digital Speakers Series of The Hellenic Initiative (THI) continued on June 4 with a fascinating discussion about the post-COVID world with Andrew Liveris, former Chairman & CEO of The Dow Chemical Company and founding Chairman of THI.
Nicholas Logothetis, Co-Founder and Chairman of the Board of Concordia, fielded questions from around the world as the moderator, and THI President George Stamas offered greetings.
Liveris began by emphasizing the uncertainty that prevails and said "the stock market is gambling… that some sort of recovery is foreshadowed sooner rather than later," but he warned "the best case scenario is not for quick recovery in 2021" but a 'U'-shaped "recovery beginning 2024-25… if we return to pre-COVID behavior," an important caveat.
Liveris believes a fundamentally different economy will emerge. "All the projections of the use of digital just accelerated… Everyone is getting used to online. Companies are already announcing they will never have offices again." But not all those jobs will go home. Many millions will disappear, he said, and noted most are "minimum wage jobs that are disappearing before our very eyes."
Responding to Logothetis' request for a positive note, Liveris waxed philosophical and practical about "Greece's response to COVID," about the Mitsotakis government's actions and the citizens' "rediscovery of the things we care about: a sense of community and protecting each other," and being able to count on family, friends, community.
He also sees a brighter Greek economic future, citing companies shining in the IT sector, but for the now-crucial tourism industry, "this is a pivot moment" which "could speak to its advantage" if Greece can shift away from mass quantity tourism. "People will want nutrition, safety, space. Tourism will pivot to a quality, not a quantity sector."
Tech companies will do well, but he asked, "how does one take care of the displaced population? We have to do something about helping the people most affected by the post-COVID world" – and the negatives will cascade to everyone in the economy. "Income inequality, this split between the rich and poor, and the disappearance of the middle class" preceded COVID and those trends just accelerated." Changes he sees as inevitable include people leaving urban areas, a decline in mass transit, air travel in general, and in international travel – especially business travel. Borders will close and immigration will stop. On the broader political front, he said the lack of leadership in the center has to be filled somehow.
He pulled no punches: "Humanity… is in the middle of a crisis equivalent to a World War… Will we come out of it and fix humanity is the big question of this period. Where is that leadership going to come from? Who's going to the create the Marshall Plan equivalent in a post-Covid world?"
When asked about prospects for a U.S.-China Cold War Liveris reminded that serious issues between them preceded COVID, noting they represent two sets of rules, different economic ecosystems in the world between which nations and companies "will have to start to making choices… Western companies and countries will be comfortable playing by the rules of the United States, but the fact that the U.S. is changing dramatically is a compounding factor. The U.S. is no longer the U.S. of multilateralism… helping other countries – it's out of that business. I don't think the election in going to change that."
The necessary overhaul of education systems that an innovation economy requires, and the rebuilding of healthcare systems COVID exposed, illustrate for Liveris the need to reverse the denigration of government, especially in the United States. He said, "capitalism and democracy were going through a divorce. They separated," but COVID has shown "that markets left to their own devices won't distribute capital" in key sectors. "Government will have to step in. Healthcare and education must be at the center… we cannot be leaving people behind. Market economies don't do that without government rules."
Stamas concluded the program by saying to Liveris "we can't thank you enough for giving us a birds-eye view on so may compelling issues facing us as a Diaspora and a worldwide community."