Theane Evangelis Joins Board of The Hellenic Initiative
January 3, 2023
Los-Angeles based Attorney
Brings Experience, Depth and Passion for Hellenism to THI Board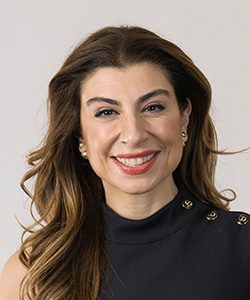 The Hellenic Initiative (THI) is pleased to welcome distinguished litigator Theane Evangelis to its Board of Directors.
Founded in 2012, THI is a global non-profit organization that brings together Diaspora Greeks and Philhellenes to invest in Greece today through programs focused on economic development and crisis relief. Since its founding, THI has invested approximately $20 million in Greece, and is one of the largest Greek Diaspora organizations in the world.
After serving as a law clerk to Supreme Court Justice Sandra Day O'Connor in 2004, Evangelis joined Gibson, Dunn & Crutcher LLP's where she is currently the Co-Chair of its global Litigation Practice Group. She is also a member of the Appellate, Labor and Employment, Media, Entertainment, and Technology, and Crisis Management Practice Groups, and previously served as Co-Chair of the firm's Class Action Practice Group.
Based in Los Angeles, Evangelis has served as lead counsel in a wide range of 'bet-the-company' litigation matters in trial and appellate courts across the country. Her professional achievements are widely recognized by leading publications. Most recently, she was named by Best Lawyers as the 2023 Appellate Lawyer of the Year, by The Daily Journal as one of the Top 100 Lawyers in California in 2022, and by Euromoney Legal Media Group as the 2021 Litigation Lawyer of Year.
She graduated from the Georgetown University School of Foreign Service and earned her law degree at the New York University School of Law where she graduated first in her class and was Butler and Pomeroy Scholar and served as Managing Editor of the New York University Law Review.
Evangelis grew up in Medford, Massachusetts, with both parents from the island of Lesvos, Greece. She has been active in the Greek community, including serving as an Advisory Board Member of the Los Angeles Greek Film Festival.
George Stamas, THI Board President, stated: "Theane Evangelis has excelled in her chosen field from her days in law school, and she is a distinguished partner at Gibson Dunn. We are delighted to have Theane bring her commitment to excellence and love of Hellenism to THI's Board." 
Andrew Liveris, THI Board Chairman stated: "As a top LA-based lawyer, Theane enhances the breadth of THI's Board in many ways. She understands the entertainment industry and is an established professional in Los Angeles, where, among other locales, THI will expand its reach in the coming decade." 
Theane Evangelis stated, "I'm honored to join this distinguished board and am proud to support the critical mission of THI".