The story of Lora Pappa, founder of METAdrasi – Action for Migration and Development
April 4, 2019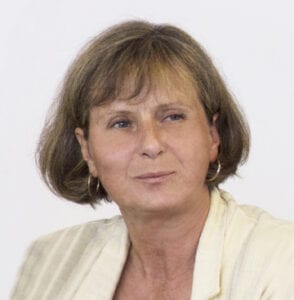 Lora's work with asylum seekers and refugees began long before she decided to establish METAdrasi. Working closely with refugees, for over 20 years, she was troubled witnessing essential gaps that no organization seemed willing to fulfill.
In December 2009, METAdrasi was born out of Lora's vision to create a nonprofit that would dare to provide services to refugees and asylum seekers that no one else would. It officially began its programs in 2010 with a focus on interpretation services, protection of unaccompanied children and education.
METAdrasi's goal is primarily a human one; to support refugees and migrants whilst defending their human rights. The organization offers interpretation in 43 languages and dialects, having conducted more than 1,159,000 sessions to date, as well as providing legal support and a safety net for unaccompanied minors. One of the first protection activities for unaccompanied minors were the escorting missions to appropriate accommodation facilities, that resolved the problem of children's prolonged stay in detention centers and protected them from smugglers. "I remember, at the beginning, the escort teams were followed by smugglers that were trying to mislead the children. They were following them everywhere", Lora explains.
In 2015, the organization created transit accommodation facilities for unaccompanied children on the islands of Lesvos, Chios and Samos. These facilities are safe and child-friendly spaces away from the precarious conditions in mass detention centers and dangers of smugglers and traffickers, where more than 400 unaccompanied children have been hosted thus far.
"We had to knock on many doors, in order to raise the necessary funds for the establishment of our first accommodation facility, the one in Lesvos, foreseeing that thousands of unaccompanied children would be trapped in Greece", Lora remembers. "Only THI realized the urgency and trusted METAdrasi, a Greek organization. Thus, we managed to create the first Transit Accommodation Facility for Unaccompanied Minors in Greece. In 2017, when we were facing a shortfall in funding for our shelter in Chios, THI was again the first to support us. We just can't forget those who have supported us at crucial moments, their contribution is part of our history", Lora states. "The feeling of gratitude is even more empowering than the rewarding feeling of giving to our fellow human beings".
***
Lora Pappa has been awarded the North South Prize of the Council of Europe for 2015, for her outstanding dedication to promoting North-South solidarity, human rights and democracy. She was also honored with the "Legion of Honour" (2017) and "Order of Liberty" (2016) decorations of the French and the Portuguese state respectively, for her social contribution and exceptional work, while The Hellenic Initiative (THI) granted her the THI Leadership Award in 2016.
METAdrasi has received the "NGO of the Year" award at the "Hellenic Responsible Business Awards 2018", the Collective Action Award "Models of Excellence 2017" by the "Citizen's Movement for an Open Society", as well as the first prize at PILnet's European Pro Bono Awards 2016, in the category "Award for Exemplary Partnership in the Public Interest".