The Livanos Restaurant Group Thrives in Good Times, Gives Back in a Crisis
May 19, 2020

For Greeks to survive and thrive for more than 4000 years, they had to overcome countless crises. Collectively and as individuals, in their communities and with their enterprises, they had to respond and adapt swiftly and effectively, and we are seeing that again in the era of the coronavirus.
The leaders of the Livanos Restaurant Group, which is addressing the challenges faced by everyone in its industry, have been longtime supporters and valued partners of THI, and they are going the extra mile by 'giving back' to the less fortunate during the global crisis.
The tale of the Livanos family America and their establishments is the classic Greek immigrant story.
Brothers Enrico and Johnny Livanos represent the third generation in the family business and the former shared its story for the THI Newsletter.
The restaurant group's history in the New World begins in 1958 when Enrico's grandfather John travelled from the island of Lesvos to New York. "He began with a couple of luncheonettes in Manhattan and his first big restaurant was the Arch Diner in Brooklyn."
Enrico's father Nick helped his own father and with a business management degree from Adelphi was the first in his family to graduate from a university. "He then went to culinary school with the mindset of elevating the eateries. He took us to the next level, to more of a formal Greek restaurant. Oceana – the flagship restaurant – was the group's first fine dining establishment and the New York Times awarded it three stars.
"Two years later we opened Molyvos, named for our village on Lesvos, he said. Located near Carnegie Hall, it also earned three stars from The Times.
"You fast forward another twenty years and my brother and I are involved."
They opened Ousia in Manhattan's fast rising Far West Side in 2017.
THI's members are very familiar with Ousia. Enrico was delighted to note "we have hosted multiple happy hours and events for THI, donating the meze, appetizers, and food."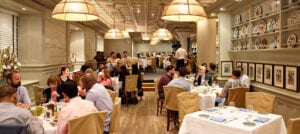 "What is special about Ousia," Enrico said, "is that we can continue the family legacy while also representing our generation. Ousia's chef, Vasiliki Vourliotaki, was the perfect bridge builder from classic Greek cuisine to modern eating trends."
Ousia's menu is definitely Greek but with openings to American cuisine like their Gyro Sliders. "Our tiropita are made with four cheeses – one is a smoked cheese." And they have translated the classic Greek dish into their Pastitsio Mac & Cheese. "They are fun for the guests and help us maintain the 'ousia' of Greek cuisine.
"It's not a Midtown destination eatery like some of our other restaurants," he said. "We are in a more residential location, so the opportunity for us to pioneer a new area on the Far West Side of Manhattan was what brought us here."
The architecture, aimed at making guests feel comfortable, features warm wood and inviting tones with a large mural that was painted by a Greek street artist, Zoe Kivali. It's a bit abstract, Enrico noted. "As she would say, it's more like "dreaming of Greece" – what someone is thinking on a hot day in June anticipating their upcoming vacation.
Guests appreciate the Tectum acoustic tile. "It keeps the sound at a nice sound level," making it ideal for business and other kinds of discussions over a meal. And even before the advent of the coronavirus, Ousia's tables were spaced farther apart than most.
The brothers are joint owner-managers. Enrico is more service and food oriented and Johnny is more administrative. The latter, who is also Beverage Director, has ensured that the fun 'New Age Greek Cuisine' is accompanied by an elaborate Greek cocktail program. "They are created by our custom cocktailists," Enrico said, who said, "90% incorporate Greek spirits, whether it's Metaxa, or masticha liqueur, tsipouro, rakomelo, or Greek vermouth – we like to be ambassadors of all things Greece to educate our guests about Greek products."
During the pandemic, the brothers are focused on the opportunity to practice food philanthropy. "Once the news came out that restaurants were limited to take-out and delivery, we decided to close our restaurants" in the business districts. "Ousia and Moderne Barn, being in more residential neighborhoods" – the latter is in Armonk, NY – stayed open. "We didn't want to completely close. That felt almost like we were giving up, and by staying open we could keep some of our key players and day-one people employed – that was a priority for us."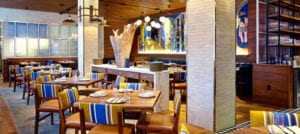 "From being creative, a couple of opportunities presented themselves to us. One is called Dine11 (think 911) out of Los Angeles." It's a non-profit group founded a few weeks ago to produce individual hospital meals. The first order we did was for 100 individually packaged high end and tasty dinner meals, including for the hard hit Elmhurst General in Queens and Woodhull Medical Center in Brooklyn." Supported by donations, Enrico says they help by offering minimal pricing, "just to cover our costs, so that we can continue to fuel the people who form backbone of the effort to fight the crisis."
They also asked on social media to be put in touch with people unable to get food for themselves. "We can prepare meals and take them to their doorstep," he said, and while there were not many requests, they continue to offer the service.
As for his family, Enrico said, "we are fortunate to belong to a community that is very supportive. They have gone above and beyond to support us. On our online platforms for deliveries, its 50% Greek last names. It's very a comforting and reassuring thing to have people who are not close to you, or don't even know you, consciously making the effort to support you and give you the motivation to keep going. We want the members of THI to know we are here for the community and are thankful for everyone who supported us through the years and continue to support us now, and we look forward to getting back to things as they were."