The Hellenic Initiative Supports Greek Youth Orchestra Summer Tour
August 7, 2023
GYSO returns to the historic Konzerthaus in Berlin on Aug. 11 and Corfu on Aug. 8
The Greek Youth Symphony Orchestra (GYSO) is ready to embark on a captivating summer musical journey led by its charismatic Founder and Artistic Director Dionysis Grammenos and proudly supported by the Hellenic Initiative (THI).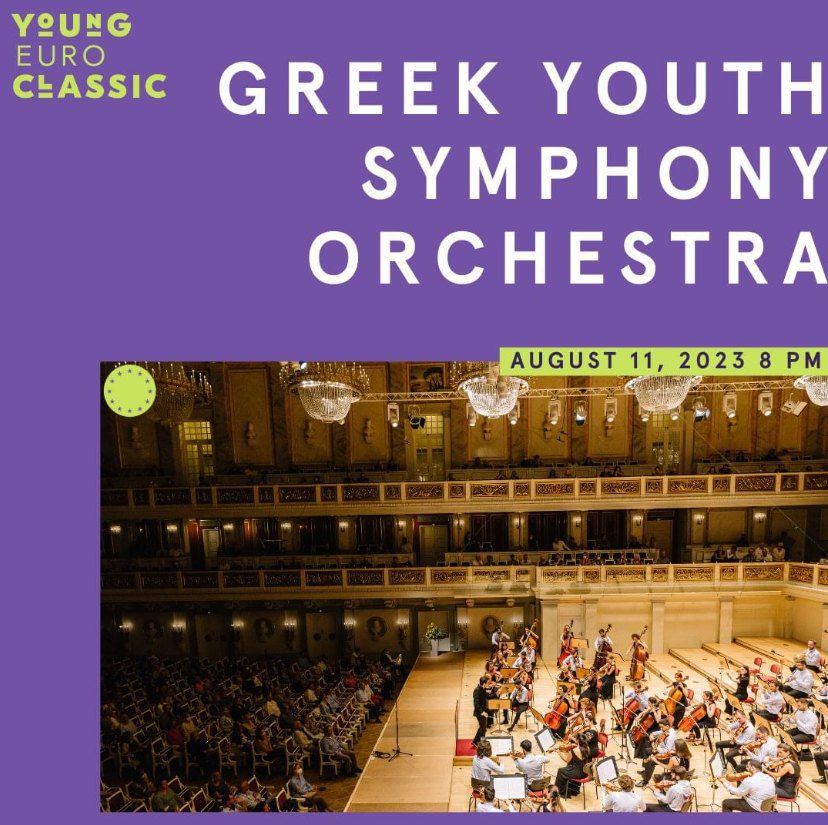 On August 11, the GYSO returns to the historic Konzerthaus in Berlin, participating in Young Euro Classic, an esteemed international music festival that annually invites the most prominent youth orchestras from around the world. The orchestra will also reprise another past success with a concert at the Old Fortress of Corfu. The Corfu concert is made possible through the support of THI and the Ioannis S. Latsis Charitable Foundation.
Founded in 2012, THI is a global non-profit organization that brings together Diaspora Greeks and Philhellenes to invest in Greece through programs focused on economic development and crisis relief. Since its founding, THI has invested over $20,5 million in Greece, supporting promising startups and effective philanthropic organizations.
The orchestra, now in its sixth year, comprises more than 250 musicians from 37 cities in Greece and abroad who participate in its concerts and activities. Its debut at Konzerthaus Berlin, with a program dedicated to the 200th anniversary of the Greek Revolution, was held under the auspices of the President of Greece, Katerina Sakellaropoulou.
In Corfu on August 8, led by Grammenos, who is also artistic director of the Corfu International Festival, the young musicians of the GYSO will perform three important works of the symphonic repertoire: the symphonic poem 'Prometheus' by Franz Liszt, the 'Concerto for Trombone and Orchestra' by Launy Grøndahl, and the Symphony No. 1 in C minor by Johannes Brahms. The highly awarded Achilles Liarmakopoulos will serve as the guest soloist for this performance.
The GYSO concert on August 11 will mark the opening concert of the Young Euro Classic festival's main section on European ensembles. Following the orchestra's remarkable performance at Konzerthaus in 2021, which received rave reviews from the international press, the Greek musicians return to Berlin performing the same program they will present on Corfu on Aug. 8, again with Liarmakopoulos as guest soloist.
Grammenos made his conducting debut at the age of 21 with the Vienna Chamber Orchestra. Since then, he has conducted numerous leading orchestras around the world. A graduate of the Music Academy Franz Liszt in Weimar, he was named European Young Musician of the Year by the EBU in 2008.
The GYSO was been selected to be a member of the European Federation of National Youth Orchestras and has been Orchestra in Residence at Megaron-The Athens Concert Hall since 2020.
Nicholas W. Alexos, THI Executive Committee member stated: "We must all be quite proud of the accomplishments of the GYSO and our founder and conductor Dionysis Grammenos. The future of European culture and innovation is a torch carried by these young talents of Greece"
Tickets information:
For Berlin, visit:
https://young-euro-classic.de/en/event/2023_greek-youth-symphony-orchestra
For Corfu visit:
https://www.viva.gr/tickets/music/i-elson-sto-palaio-frourio-kerkyras/