The Hellenic Initiative Makes Gift To Athens And Thessaloniki Greek-jewish Communities In Honor Of Pfizer CEO, Albert Bourla
April 28, 2023
Donation of $60,000 Helps Communities Provide Vital Social Services.
The Hellenic Initiative (THI) has made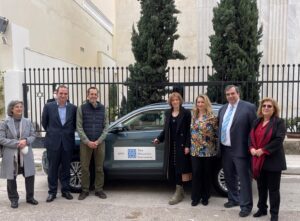 a combined gift of $60,000 to the Jewish Communities of Athens and Thessaloniki in honor of Albert Bourla, Chairman and CEO of Pfizer. THI honored Dr. Bourla who was born into the Thessaloniki Jewish Community, at its 10th Anniversary Gala celebration on December 3, 2022, at which the gift was announced. Bourla was honored for his achievements and his support of Greece personally and through Pfizer's significant investments in the country.
Founded in 2012, THI is a global non-profit organization that brings together Diaspora Greeks and Philhellenes to invest in Greece today through programs focused on economic development and crisis relief. Since its founding, THI has invested over $20 million in Greece.
THI's gift was used for the purchase of two service vehicles, one for each of the Jewish Community Centers in Athens and Thessaloniki. The social services teams will use the cars to make home, nursing home, hospital and psychiatric clinic visits to members in need. The vehicles will also escort community members living alone, many elderly, to visit their doctors, hospitals, public institutions, and loved ones at their homes or at cemeteries.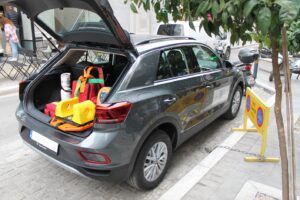 The staff will also use the cars to deliver groceries, medicine and other essential goods to its community members in need, assisting them to access social services and participate in social activities.
Dimitri Georgakopoulos, THI Board Member who was in attendance at the March 15 dedication of the gift to the Athens Community Center, stated, "THI's grants will enable the two Communities to access and provide services to their most vulnerable members in a more efficient way. We could not be more pleased to help make that happen."Taly Mair, the Director of the Jewish Community Center of Athens, called the gifts a "dream come true." The President of the Jewish Community of Thessaloniki, David Saltiel, expressed the Community's gratitude "for the generous gesture of The Hellenic Initiative", which not only contributes to the work of the Community, but "supports Jewish life in Thessaloniki." The Community's Executive Director, Victor Nar, said, "The Hellenic Initiative actively contributes to the work of the Jewish Community of Thessaloniki and in particular to the implementation of programs to support Holocaust survivors and its members in need of assistance."
George P. Stamas, THI Board President, stated: "We were pleased to honor Dr. Bourla, a distinguished member of our Diaspora, at our Gala in December. He represents many of the best qualities of our Diaspora. We saw a need in Greece in the Jewish communities of Athens and Thessaloniki and are pleased to support those communities in his honor."
Andrew N. Liveris, THI Board Chairman stated: "Pfizer as a company and Dr. Bourla personally have committed to Greece's economy and philanthropy in significant ways. We are pleased to honor that commitment and example."