The Hellenic Initiative Announces New International Ambassador
June 18, 2017
The Hellenic Initiative (THI) is pleased to announce its first "International Ambassador," Princess Tatiana (née Blatnik). Princess Tatiana and her husband, Prince Nikolaos, have been residents of Greece for the past four years, and have involved themselves deeply in charity and philanthropic movements for Greece.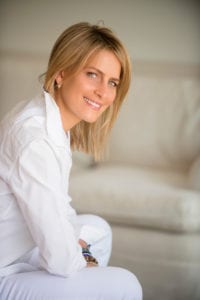 As the first International Ambassador of The Hellenic Initiative, Princess Tatiana expresses not only a deep and authentic Philhellenic spirit, but she embodies the aspirations of the Greek Diaspora around the globe for the betterment of Greece. Together with her husband, she supports numerous philanthropic causes, and through THI, she will develop an even wider circle of friends for Greece.
THI Board President George P. Stamas commented on this new enterprise:
"Princess Tatiana is a person who can help to bring together the Diaspora around the world through her eloquence on behalf of Greece, and her consciousness-raising following the example of her family's service to Greece."
Princess Tatiana herself said of her new role:
"I am very excited to be part of The Hellenic Initiative and its many programs. We all know that there is great love and capacity in the Diaspora to aid Greece in these times of need, and I am committed to fostering the tremendous effort that THI has made over the past five years. America, Australia, Canada, the UK, South Africa, Central and South America – all these and more are fields of goodwill and solidarity to be cultivated, all for the sake of Hellas. I look forward to positive and substantive results, and am proud to be associated with The Hellenic Initiative."
Biographical Note
HRH Princess Tatiana
Tatiana (née Blatnik) was born in Caracas, Venezuela. After graduating from Aiglon College in Switzerland, she received her BA in Sociology from Georgetown University (2003). She has lived and worked in New York, London, Washington and currently resides in Athens, Greece, with her husband, HRH Prince Nikolaos.
Tatiana's career path has always been combined with the spirit of philanthropy. While working as a public relations consultant and event organizer for Diane von Furstenberg's fashion house, she was heavily involved in supporting emerging women leaders around the world via Vital Voices. At the same time, she was an active member of the Walkabout Foundation's Board, which focuses on funding research for paralysis and donating wheelchairs to people in need around the world, the Red Cross (Royal Patron, 2011), the JuanFe Foundation, which aims to improve the quality of life of impoverished children and teenage mothers in the city of Cartagena, Colombia and The Eve Appeal, dedicated to raising awareness and funding research in the five gynaecological cancers.
It was shortly after moving to Greece in 2013 that Tatiana co-founded TRIA ETC, a brand featuring exclusive accessories and homeware of unique-quality craftsmanship. It is through TRIA's collaboration with local artisans and artistic minds that Greece's heritage and new talent is celebrated beyond national borders. The products are sold online and in selected boutiques worldwide.
Tatiana's course of life is based on the pillars work, healthy living, sharing and giving a voice to others. She co- founded ELPIDA Youth, a branch of ELPIDA Association of Friends of Children with Cancer, which aims to raise awareness about and support the psychological wellbeing of children suffering from neoplastic diseases.
By actively pursuing her passion for natural and healthy living not only through her entrepreneurial work but also through her philanthropic activity, she co-created the cook book "A Taste of Greece" which has been published in four different languages and made available in 72 countries. All proceeds of the book support BOROUME (translation: WE CAN), the Athens-based food-donating and saving non-profit organization.
Being an ardent admirer of the arts, she has joined forces with the Museum of Cycladic Art in Athens, Greece, as a Young Patron. She also lent her support to the Athens-based Bodossaki Foundation, specifically the 'Giving for Greece' program, which includes the 'Safe Home' and 'Thought for Food' initiatives; the former is targeted to support the Unaccompanied Refugee Children in Greece and the latter is aimed to support individual farmers, small businesses and cooperatives active in the production of five flagship Greek agricultural product categories.
Most recently, Tatiana has joined the effort of The Hellenic Initiative (THI), a global movement of the Greek Diaspora based in New York, via the role of its first International Ambassador. THI's mission is to develop sustainable economic and business improvement programs to empower the Greek people toward long-term prosperity. THI's maxim is Oli Mazi which means All Together, a motto in which Tatiana firmly believes.