The Best Possible Living Abroad Experiences
March 11, 2020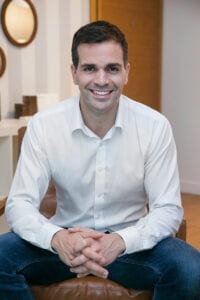 Blueground is a real estate tech company founded by Alex Chatzieleftheriou in 2013 that wants to make people feel at home wherever they choose to live. The company offers beautifully furnished and thoughtfully equipped apartments that are designed to help people simply show up and start living.
Alex told The Hellenic Initiative, "I founded the company in Athens back in 2013 after having spent almost seven years traveling as a consultant, living almost exclusively in hotels for long periods of time. As you can imagine, a hotel room is not the best living solution for the guest (small space, no privacy, no kitchen) or for the employer (too expensive)."
He turned the frustration of having "alternative options that were limited and hardly made sense for my situation," into a challenge, and the fact that he was not alone became an inspiration.
"It was impossible to find an apartment to lease for less than a year, and even if I was lucky enough to secure my first-choice apartment, I would still need to deal with a number of frustrating errands, from filling out paperwork to furnishing the entire place. This experience sparked the idea that there needed to be a better way for people to rent apartments and live their best life when they travel and move," he said.
Blueground's vision, Alex said, "is to make people feel at home wherever they choose to live, with the ultimate goal of offering more than 50,000 apartments in 50 cities around the globe. We recently launched three new cities; Seattle, London, and Paris, to reach a total of 12. Back in October, we announced the closing of a $50M Series B funding round, and the milestone of hosting guests for over one million nights. Lastly, we just hit 500 team members."
The market itself and new technology generated the chance to create something special that many would appreciate.
"We are on a mission to create a tech-powered living experience that guests love in major cities around the world. The market is really big with a lot of potential, as there is no leading tech-powered player. We have already proven the model in three continents, achieved a 3X YOY revenue growth with our efficient use of capital and as we continue to expand our presence into many other cities. Blueground is the biggest company in the space and will continue to be so in the future.
A first glance at Blueground's website brings Airbnb to mind Alex explained what makes his company different. "What we are doing at Blueground is very different. Firstly, Airbnb and similar platforms are marketplaces that facilitate an apartment booking; meaning they simply connect the guest with a property owner. In contrast, we control the entire customer journey, leveraging innovative technology ensuring a professional, consistently high quality experience. Secondly, Airbnb mainly focuses on short leisure stays. The average stay in an Airbnb apartment is only three days. At Blueground, we offer our apartments for 30 days or longer. In fact, the average length of stay in one of our apartments is five months. Lastly, Blueground apartments are always carefully selected to ensure that they are in the most sought after neighborhoods and that they're all newly built or recently renovated, so quality is guaranteed."
They expand into cities that meet a number of specific criteria: The size of each city; the importance of the city as a business hub; operational matters: the ability to expand in geographical clusters; and various other metrics.
"We have built a global team of real estate experts who search high and low for the best properties in cities all around the globe. As we continue to grow, more and more landlords, institutional owners and property management companies reach out to us directly through our website to submit their property for review. For them, we are the perfect tenant. The best proof of the strong value proposition of Blueground is that we receive hundreds of incoming requests from property owners on a monthly basis, and our landlords refer others at a very high rate."
And resting on their laurels is neither the recipe for success nor in Alex's nature.
"At Blueground, we are constantly working to go beyond just enabling renters to have flexibility in their accommodations and live in beautifully-designed apartments. We would like to help our guests feel at home from day one, not only in the apartment but in the new city as well. To do that, we're planning to launch a tech-powered concierge-type service. In the near future, we'll be able to offer our guests first-hand recommendations for restaurant bookings, outdoor activities, and tailor-made weekend getaways. We also aim to bring together guests with similar interests in order to create vibrant communities in every city we're operating in. Stay tuned for exciting updates."
It's exciting for Greece too: 250 out of its 500 team members are based in Greece.
Like many of the young people and firms that have worked with The Hellenic Initiative, Alex appreciates what THI has done and has to offer for the future. "THI has played a very important supporting role in Blueground's story. Back in 2016 when we won the Hellenic Entrepreneurship Award, we only had a presence in two countries (Greece and Turkey), with a portfolio of 100 properties. The funding as well as the mentoring and support in business services helped us grow and expand into many new cities since then. Also, throughout these years, THI has provided ample connections with industry experts and other entrepreneurs."
Blueground has grown past having 3,500 apartments in twelve locations, including New York, Los Angeles, San Francisco, Boston, Chicago, Washington D.C., Seattle, Dubai, Istanbul, Paris, London and Athens.
Find them on Facebook, Linkedin, Instagram, Twitter  or at theblueground.com