Stella Bompotsiari Makes Loving the Greek Language Fun
September 3, 2021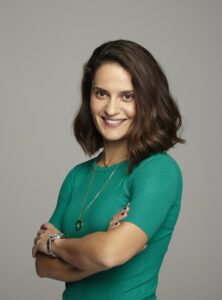 There is a kind of spirituality in entrepreneurship that people like Stella Bompotsiari manifest. In addition to the gift of building businesses that tap into the 'spirit' of their times to produce goods and services meeting news needs, some people pioneer ventures that also enhance the spiritual lives of consumers and their communities, connecting them to others and something greater than themselves.
The Greek Online School, of which Stella is the Founder along with her work partner, Pavlos Xinas, who is the Co-Founder, brings families together through the Greek language, and it has created a global online community of Greeks and Philhellenes, students and teachers who learn to love the language and express their Hellenism together. 
As co-founder of the first online Greek School, Stella helps Diaspora Hellenes and Philhellenes tap into their Greek and Orthodox heritage via mastery of the Greek language. There are 1400 students – children and adults – learning with 60 educators.
Stella's passion, drive, and vision become clear after a five-minute conversation, but the success of her endeavor is also rooted in her entrepreneurial family and the moral support of her husband Alexandros.
Her family is from Karpenisi and Aigio and her father owned bakeries in Greece. The story also includes an uncle who left Karpenisi at 19 and went to North Carolina. Stella's home is now in London, but she has lived in Raleigh, NC with her late beloved brother Panos. 
Successful, creative, passionate, charismatic – and with a heart of gold – Panos fell in love with United States when he visited at 14. After his military service in Greece, he returned to the States at 19 to study business administration and work with his uncle. He eventually owned five restaurants. 
With a 10-year age difference, Stella actually became close with Panos when she herself went to the United States and worked in the restaurant for two years. "I learned a lot from him – he changed my life totally. He taught me many important life lessons: exercise every morning, eat healthy. Businesswise too: how to think about growing enterprises."
"Focus is the main thing for me," she said. "Growth is something that eventually comes when you stay focused on your goal. I have one purpose in my business, which is to make Greek language learning very interesting."
Greek is not an easy language to learn and Stella wants to give students a different experience than the Diaspora is used to. Indeed, the online school was born through the combination of her education – a Master's at the Institute of Education of the University College London (UCL) – and her Diaspora experience.
While she lived with her brother she observed how Greek education worked in the United States. Stella noted that 'old fashion' methods predominate, "and for most of the people I met it was not a very good experience." 
Agreeing with the notion that "you can't bore a child into learning," Stella noted, "if a child is bored, it's not working. You have to keep presenting them with things that will hold their interest, otherwise you will lose them." 
What she learned in the Greek-American community "was the first seed in my thinking … it was very inspiring for me because it made me want to do something very different." 
Stella emphasized, "we don't see the students as just 'one thing'." She saw that the 'Omogenia' is not homogeneous – communities in New York and North Carolina and Northern California are not the same, and the needs of children with two Greek parents are different from those with just one. Stella saw clearly that cramming people of the same age with different backgrounds into the same classrooms just doesn't work.  
She was delighted to find out across the board, however, that "grandparents are our best collaborators, and that they serve as motivators – the children want to communicate with them. When they visit them in Greece for a few weeks or months, they make great language progress. She has also discovered that notwithstanding an intermarriage rate of 90%, there is a tendency among Greek-American children to want to learn Greek. "They see a need to be connected to Greece and Hellenism."
With the Greek Online School students learn Greek through a specially designed platform where
students and teachers connect live and interact with each other and the educational material, combining traditional and innovative methodology and ideas. 
The endeavor began with conversations with Pavlos Xinas in 2007 when Stella was studying for her Master's – "he told me I had to check out certain platforms. We played around with what was available to see what we could do, and 2012 was the first year we offered online lessons." 
The School often combines lessons for parents and children, "but not if they are very young – those children need to learn on their own, with their own methodology. For the children, you have to make it more interesting – for example, we recently started playing games in every class – language games where kids compete for speed and knowledge. And we have as many activities as possible – interactive and fun at the same time. This changes the session completely, and they also know they will always get some kind of gift or prize at the end of class – it is super effective, because they are talking with each other in Greek."
Most groups have three students and one teacher – those are called semi-private classes. There are also groups with up to eight student per class, in addition to one-on-one lessons. 
The program, whose website is greek-lol.com, uses an interactive platform – one side of the screen displays the lesson book enriched with video and audio and the other half displays the other students – there are students from all over the world and they talk to each other, making friends among Greeks from different places. 
There is also now a two-week camp in Sofiko – at a venue called 'The Ranch' – where there are three sessions, June, July, and August. "Linguistically they become new people in two weeks – because they are immersed in an environment where they hear Greek all the time and must try to speak Greek," she said. 
Stella said she learned about The Hellenic Initiative when she was researching the Diaspora market "looking for organizations that support Greeks in any way." And along the way she has worked with people who are active with THI. Believing strongly in its mission, she has made gifts of two packages of 40 lessons for THI Gala auctions.