Start-ups and Experts Connect through THI's "Connect the Dots" Online Mentoring Program
November 17, 2022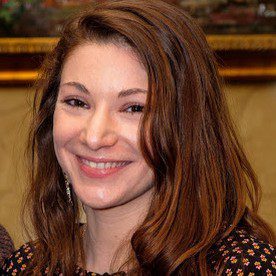 THI's Connect the Dots program is a business mentorship community that connects Greek Diaspora with entrepreneurs through an online platform. 
Danielle Harrison is a Greek Diaspora mentor with a technology communications background living in the United States.  Pavlos Vasileiadis is a mentee whose travel industry start-up Upiria is based in Greece.
Danielle was delighted to help Pavlos.  She became excited about Upiria's prospects from the first moment they spoke. Both have benefitted from their ongoing conversations.
Pavlos's enthusiasm and faith in the start-up is infectious. Speaking to prospective clients he says, "if you all got together and decided to create the newest, sexiest travel-related technology company – you will have built Upiria."
In addition to their Greek background – Pavlos was born and raised in Greece and Danielle is a third generation Greek-American – they have entrepreneurial family backgrounds in common.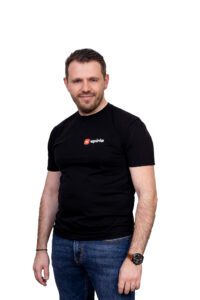 Pavlos studied in Thessaloniki before going abroad and his father and mother are in the food business. "I learned from my father how to be customer-focused. His saying, which will stick with me forever, is 'never sell anything you wouldn't buy yourself.' If you stick to that principle, your business will be an amazing success. It always works."
Danielle discovered THI while in Greece. After listening to a podcast featuring past THI
Executive Director Peter Poulos, she knew, "I wanted to get involved with the organization to get in touch with my Greek heritage… I just reached out to Peter, and he introduced me to some people at THI. I told them about my background, and they said a good place to start is Connect the Dots."
"I joined the platform, created a profile, and began connecting with individuals. It's about having an initial conversation and learning about each other, understanding what we do, what our expertise is, and what we both want to get out of the program – and if I don't have the right skills to help this person, I will close the loop and help the start-up make other good connections."   
Pavlos is just as delighted with Connect the Dots. "I fell in love with the platform straightaway. I went down the list of people they provided and saw there were so many knowledgeable people with experience, and all were welcoming and willing to support and back you up – I just dove into that!"
Pavlos added, "I met and chatted with 8-10 people, online and in person, including Danielle, with different backgrounds, and it was super helpful. I literally have the platform pinned on my browser and I check on it daily."
Pavlos returned to Greece after eight years in the UK where he was in business applications development as an IT consultant. He enjoyed the projects and travelling – but it was time for something different.
He came to a point, "where I wanted my own product, to know it inside and out, so I combined my favourite sector with my technology knowledge.  Upiria now has a pilot product now with customers playing with it, and a couple of big deals are in the works. It's still in early stages, but after a couple of years of running the start-up, you see the results of your labor, and it's so rewarding!"
Pavlos's goal is to disrupt the travel industry with an innovative technical solution. He says Upiria should be seen as the provider of a technology "infrastructure for travel businesses, a bridge between Greek travel products and travel businesses in Europe."
Through the platform, Pavlos said, "I have had some long and really insightful conversations with people from the THI community like Giorgos Argyropoulos, Agisilaos
 Stathakis, Petros Perselis, Aris Karanikas, and Maria Moragianis.
And he likes the flexibility. "You don't have to bombard the mentors with problems every week. Some of the mentors I touch base with on a three-month basis.
Pavlos is now in 'give back' mode, motivated to mentor others through Connect the Dots. "It's interesting… I like getting mentored, hearing other people's opinions – it evolves me as a professional – and I like sharing my knowledge with the next generation."