Phee – Generating a New Generation of Materials for a More Sustainable World
July 7, 2021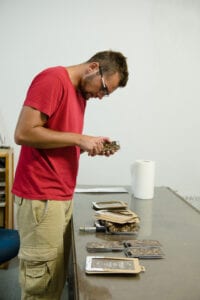 Phee is one of those pioneering companies that are helping put Greece on the map of places where breakthroughs are happening that are both profitable and contribute to healing the Earth, earning it one of the first Venture Impact Awards of The Hellenic Initiative.
The essence of Phee's endeavors is restoring harmony with nature and long-term economic hope through products that make for a more sustainable economy, moving from an economy whose manufacturing processes produce disposable products that ultimately become mere waste that is problematic, to practices that result in usable materials of higher value than the output of recycling – hence, upcycling. 
Stavros Tsompanidis, Phee's Founder, said of the work its talented team, "we have patented a means of using seagrass to create bio-based composite materials, contributing to moving humanity away from the current disposable economy to a circular economy" – where repositories of ingenuity like Phee keep finding new uses for the products of man and nature.  
The name 'Phee' is inspired by the Greek letter called 'phi' in the English-speaking world. It evokes the work and speculations of the great Italian mathematician Leonardo of Pisa, also known as  Fibonacci. He explored the properties of the famed Golden Ratio, whose mathematical symbol is Φ. It is also known as the Golden Section – terms possibly coined by another  Leonardo – Da Vinci. Both of them believed their work involved insights into the primary elements of nature and brought them into contact with the origins of life itself said Stavros, who finds in 'phee' a powerful symbol of his love and respect for nature. 
That fascination lay dormant through the days of his formal education, lurking behind the entrepreneurial passion which was sparked as early as elementary school and was sustained by what he read about business and commerce in his youth. He was inspired to want to learn how to create value within an organization of his own making, leading him to education and training in finance and bank management.
In college, however, he heard a 'click' in his head when he realized the entrepreneurial can be effectively and lucratively combined with the environmental by giving a second life to materials that most people dismissed as waste. "I said to myself 'this is for you. You must take advantage of it,'" Stavros said.
"Phee was born of a simple idea that became a vision, to find a means or method by which the ubiquitous seagrass of our beaches can be put to good use."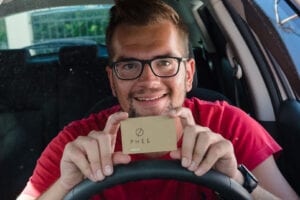 Seagrass – Posidonia Oceanica – is found throughout the Mediterranean Sea's ecosystems, and in Greece, as in other countries, hundreds of tons of it washes up in beaches every year. Governments must spend money to collect seagrass, which is disposed of in landfills.
"The Waste management we now practice is unsustainable, ending up as landfills, and we believe there must be 'upcycling' opportunities that should be explored," Stavros said. 
And he is actually doing that. Phee has patented a process for upcycling seagrass, and the product is the world's first biobased composite material reinforced with Posidonia fibers.
There is a multiplier effect at play, too: the new material, called PHEE-board, in the form of rigid panel sheets, consumes less fossil fuel than conventional materials, so it is a strong Green alternative. 
Its uses include packaging, mobile phone cases, sports equipment, and sunglasses.
Phee is currently working with the biomass that results from the production of Greek Mountain Tea, which can  also be upcycled into panels that will soon hit the market. 
Stavros and his colleagues are always thinking. "In recent months we have been examining other kinds of bioresidues that are produced in many parts of the world."
While he acknowledges that the 25-45 year old age group is more sensitized to sustainability and the need for and the possibilities of what Phee doing, the company reaches out to across society, and they support environmental education in general.
Stavros' parents support him 100%. "It is touching how much they support me and help me despite the challenges and difficulties I have faced," he said. His mother's background is in sales and his father specializes in corporate communication, so he listens to what they have to say about his endeavors. His brother Dimitri, who took the corporate path and lives in London, is very excited about what his brother is doing. "He believes in us and we speak often about technical matters," said Stavros.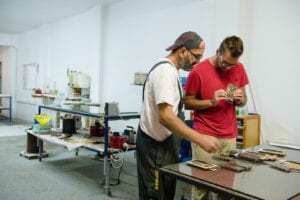 He is pleased to have participated in events where Phee made presentations about its projects, including those of the Clinton Global Initiative, Gianna Angelopoulos, and The Hellenic Initiative. 
"I have followed THI from the beginning. I first became aware of THI when I heard Michael Printzos speak about it. I decided to follow its activities and progress in the news and then I took the initiative and applied for the Venture Impact Award in 2020. Winning was very important. It helped us very much at a critical time, when COVID hit us hard. The cash award enabled us to move forward on our projects and to stay on the development path, especially with scientific research – we were able to hire a new R&D researcher." 
But the ability to network in THI's world was also very valuable. "For us, being connected with markets and developments on the other side of the world was the most meaningful and impactful thing for us." 
Stavros emphasized that "I think THI is the only organization that is gives Greek entrepreneurs the opportunity to project their work into a network of people who love Greece – but they don't only love the country because they have roots there, but because they believe in its competitive advantages and in the talent of the Greeks. They have created the greatest opportunities for young people to spread their wings and to present their products to people who could quickly make happen what otherwise would have taken years."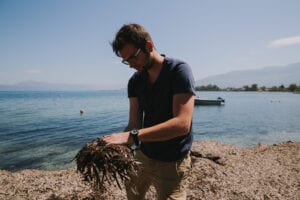 Phee's relationship with THI fits in nicely with Stavros' vision of Greece becoming a global leader in sustainability and the circular economy. And it's in the right place, Rio, near the city of Patras, which has become a hive of startup activity thanks in part to the innovative Patras Science Park, whose praises are often sung by people like U.S. Ambassador to Greece Geoffrey Pyatt.