Penelope Bouklas: Art and Entrepreneurship on Both Sides of the Atlantic
December 14, 2021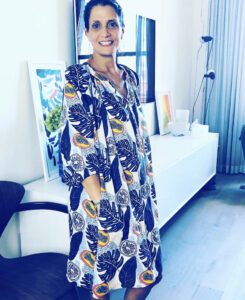 Like millions, perhaps billions, around the world, the pandemic moved Penelope Bouklas, who was trained in Interior Design, to look at the rest of her life when work was put on 'pause'. She saw more clearly the pros and cons of living in New York, and strongly felt the pull of Greece. 
While deeply appreciating her new and richer perspective, she is staying put in New York, but Penelope feels that she has hit the pause button once more, and the tape of life and work is moving forward again – and the same thing is happening in Greece. 
She is especially delighted to read about startup firms that were established or received assistance to keep moving forward over the past two years.  
"The Hellenic Initiative (THI) is so good with that. Through them I get to the other side of things" after the crisis, and see "that there is so much to look forward to. You see Greece changing with the young people. The creative scene is very inspiring because you can basically do anything there." 
The topic deeply interests her. "On the one hand it's been difficult to open a business in Greece due to the bureaucracy, but it's also difficult in the United States given the costs – so I find that in Greece it is more attainable." She was pleased to learn that the government has made it easier for talented young people to establish companies there. 
"Peter Poulos," The Hellenic Initiative Executive Director, "took me on a walk around Athens' Kypseli neighborhood. We went into an arcade and he pointed out, 'THI helped this company get started.' It's so great that we can give someone a helping hand. That doesn't happen in New York unless you know someone with money or take out thousands of dollars in loans."
Indeed, as Greece progresses and the startup ecosystem grows and THI's transatlantic mentoring network thickens with endeavors like Project Connect the Dots, one can imagine Greek-Americans telling friends and family who offer them cash support that it will go much farther if they build their startup in Greece. 
She also has non-Greeks friends who are thinking about moving to Greece part- to full-time. "There are a lot of younger, ethnically-diverse people, people from the Middle East, who see that Athens has so much to offer."
With THI at the heart of it all, "that's why whenever I help out, whatever I do for THI, I feel like I am a part of that." She has often helped out with the auctions at the annual THI gala in New York. 
She also feels that in Greece, it is better understood that the creative energy and experimentation of entrepreneurs and artists are connected, and that they can inspire and teach each other. 
Penelope likes that, because she is the unique artist in her family. 
She is delighted by everything in her background, however, with roots extending to Kastoria, Lemnos, Smyrna, Kalamata, and Chios. 
Now living in Astoria, which gives her a taste and touch of Greece, she was born and raised in Long Island – her grandfather George Proios was a founder of the St. John's Greek Orthodox Church in Blue Point. 
Her parents were also very involved in the parish and one of her sisters is currently a Parish Council member. All the siblings participated in Greek and Sunday school, Jr. GOYA, and other community activities. 
Her older sister is in the family business – their grandfather's insurance agency – and her younger is in the related actuarial field. Her brother is a lawyer. 
There was a long of math and logic in the air, but, "I'm the one who went to art school – I studied interior design at FIT," Penelope said with a lilt in her voice. 
"After school, I fell into the world of photography – I started styling for photo shoots, beginning with fashion shoots." Now she specializes in 'propping'. "I tell people 'I help make a pretty picture.'"
A discussion about photography and Greece leads to her noting how the photographers of many high-end luxury brands are now all over Greece. "They are so busy. There have always been photo shoots, but now there are a lot more. And it's amazing how much filming is now happening there, too." 
Slowly but surely the government is realizing that is free and powerful advertising for the country –  but Penelope doesn't need to be sold. 
"I am a freelancer – I work for myself – photography and video for photo shoots in advertising and social media," she said, so she can visit the homeland often. "Living in New York is great," but it can be exhausting. When she is in Greece, she does not miss the sirens and the car horns honking. 
This summer she posted a picture from a past trip to the island of Siphnos and noted: "There is nothing in the world like the Greek islands to cure what ails you. It's this intoxicating elixir of the sun, the sea and the wind. I could use a bit of this elixir right [now] to heal me my soul, but knowing I'll be there soon makes me happy."
"I like going Athens for a couple of weeks, then returning to New York for work," she said. "Im so happy there. When you are so close to the rest of Europe" – that is another Athens bonus, notwithstanding how much she loves New York. 
She goes to Greece as often as possible, but while a trend is emerging of Greek ex-pats and Greek-Americans returning or moving to Greece for the first time, her work does not permit that. 
It was tough when COVID brought a halt to her work. "My job is interacting with people – we are on top of each other on the set and all that activity had to be reconfigured. It was weird, and I was thinking, 'the whole business has changed – do I start from scratch?' She is thrilled to report business is bouncing back, however. "I've picked up clients on my own and I've signed with an agent to get me more" – a sign of her Hellenic Diaspora ingenuity and flexibility
Penelope is looking at post-pandemic possibilities, including some that she pursued earlier. "Before COVID, I was in Greece in January, 2020 talking to real estate companies about 'staging' apartments there with my background in interior design." 
The potential is great, because the Greek real estate sector is poised for a boom.