MomCycle – Helping Earth and Helping Families in Challenging Times
January 7, 2022
It's a beautiful thing when good friends who love discussing and sharing ideas from childhood have an opportunity to build something together. Niki Lalioti and Ileana Ismyridi, the co-founders of MomCycle, the first dedicated resale marketplace in Greece for babies and kids' products, have made upcycling and recycling desirable and easier.
Timing being almost everything, MomCycle offers a more sustainable model for young families in a year when more and more are wondering 'how can I help' regarding the various crises facing their communities – climate change, environmental degradation, economic.
Niki and Ileana are friends from their school days – both are 38 years old, born and raised in Athens. 
"After finishing school there, we both studied marketing and communications,"  Ileana in London and then Boston University, and Niki obtained her undergraduate degree in Greece and her Master's at NYU.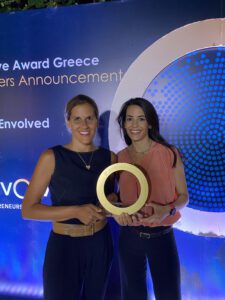 When they returned to Greece they worked in advertising and P.R. agencies. "And we were always discussing business ideas, wanting to do something together. When Ileana had her baby she had this idea and shared it with me and then I had my baby, so the idea was derived from the challenges of being new working moms."
On the MomCycle website, "parents can buy and sell pre-owned products from their favorite brands for babies and kids up to 12 years old, a wide range of quality products at great discounts – up to 80%," Niki said. 
"And we cultivate a new, more responsible consumption model, where the life cycle of our clothes and gear is extended, waste is reduced, and our environmental footprint is eliminated," she added.
MomCycle won the 2021 Envolve Entrepreneurship Award and aims at expanding in international markets in the future – driven by innovation and compassion.
"It's a difficult time for us here in Greece, and it's hard to think any country not going through some kind of a crisis. Having kids makes it even more stressful, but the future is being created for them and we can say that MomCycle was a small way to make us feel better as parents – and to help compensate kids for all the other bad things that are happening, creating something beneficial for them in the future."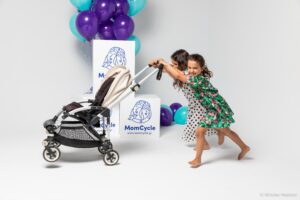 Everything is carefully thought out, taking into account efficiency and parents' sensibilities. While they cannot personally inspect the products, MomCycle is as careful as possible. "We carefully check the products' condition from photos users upload from multiples angles. We erase the background so the products are clearly visible against a white backdrop – these are high quality products and we decline items that are not up to our standards."
"We often see products with their tags still on that have never been used," and that now find new homes so that neither the material nor the money spent goes to waste.
It is their human touch, however, that draws people, not just convenience and savings – "parents in Greece responded and we have warm and positive feedback from them … the new platform has been embraced after being online only 40 days."
"And while our name is MomCycle," Niki said, "we also embrace dad. One of the good things about parenting today is that it is more of a partnership, so mothers don't bear the entire burden… We are so happy to see fathers uploading – buying and selling, participating in the new circular economy through the upcycling and recycling," she said. 
MomCycle makes the new circular economy that's good for Earth economical for families too. "Parents want only the very best and safest for their children, and we only offer branded products with established reputations for quality."
MomCycle also makes it easy to return products families are not pleased with. "If the products do not correspond to the description the buyer has every right to cancel. As a platform, we cover the return costs," Niki said. 
The co-founders are also committed to working with and investing in Greek companies, being rewarded with the capabilities MomCycle customers demand The platform makes it easy for buyers and sellers to negotiate prices, transactions are secure, and there is safe shipping all over Greece,  
MomCycle is a product of the energy and synergies of its founders. Ileana consults with brands on communication strategy, both as an executive in international P.R. agencies and as an independent consultant, and Nikki is Marketing and Communications Director at Nikos Koulis Jewels, a Greek fine jewelry brand.
Niki was formally introduced to THI when Nikos Koulis Jewels was approached about donating jewelry for a THI Gala silent auction, but she notes, "I started following THI's generous programs for Greece before that – learning about the way that they responded" to the Greek crisis. 
She is impressed, however, "not only by what they do in Greece, but the way they involve the Diaspora, inspiring people to care about what is happening in Greece … informing people not only about the Greek Crisis and the problems but about people who are making a difference in our society."
Niki believes THI has "created a very effective tool to introduce Greeks to the Diaspora and to stimulate communication and cooperation," which she says is very important," as is the vetting of organizations that are the most effective.
She spotlighting THI's current wildfire fundraising efforts and said, "if THI didn't exist, all these people who want to help would not know how to do it and how to get involved. You have created a very integrated platform which is not only about relief funds but support on so many levels."
So far, she only knows two THI leaders, but Niki said "their passion and dedication are so inspiring – and there is a multiplier effect for other Greeks, Greeks abroad and inside Greece. THI's motto: 'Greeks helping Greeks' is exactly what we needed." 
"Entrepreneurship in Greece has many obstacles and in general – and it doesn't really encourage women to take such steps but we are very proud to have made this happen.