IBM joined THI's Global Corporate Partners Program in 2020: Meet Mr. Arvind Krishna, the CEO of IBM
December 9, 2021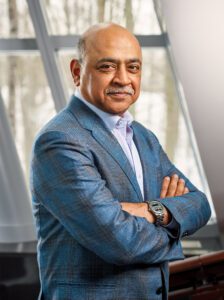 In 2020, The Hellenic Initiative formed the Global Corporate Partners Program (GCPP). Our Global Corporate Partners commit to annual contributions directed specifically towards Greece's economic development. The following visionary corporations are THI's Global Corporate Partners:  ADM, Axia Ventures, Bloomberg Philanthropies, Corning Incorporated, IBM, KPS Capital Partners, Liveris Family Office, Pharmathen, Prosperity, Shearman & Sterling, Teneo Holdings, and Univar Solutions.
Their gifts have funded THI's Venture Impact Awards, Regeneration, Greece's largest placement firm, and THI's Connect the Dots Program, connecting talented and promising entrepreneurs from Greece with professionals in the U.S. for structured support and mentorship.
IBM joined The Hellenic Initiative's Global Corporate Partners Program in 2020 as a founding Corporate Partner. With a presence in Greece for more than 80 years, IBM today is focused on helping major Greek businesses and public organizations apply cutting-edge technologies such as hybrid cloud and artificial intelligence to drive growth and innovation.
THI asked IBM's CEO, Arvind Krishna to discuss IBM's views on the Greek market, and about his own personal experience as a member of a global diaspora. 
1. What is your view of the Greek market today for corporate investment and acquisition. Where do you see opportunity?
As Greece celebrate its 200th anniversary this year, we see incredible opportunities ahead. Greece's image as an investment destination is significantly improving among the business community. Almost every economic indicator shows progress. The economy inched back to 3.8% of growth in 2021 and is expected to reach 5% in 2022. Ease-of-doing-business has considerably improved. Foreign direct investments have steadily increased since 2015. And earlier this year, S&P upgraded the country's sovereign rating and the country's four big banks. 
There is every reason to believe that the country can capitalize on these positive trends. The government is already taking strong action to rebuild industries, digitize public services, reform labor relations, and boost investments. These measures, combined with Greece's plan to spend €31bn of EU recovery funds, can help improve the country's attractiveness for business.
The most obvious and promising area of opportunity we see is in technology, which can serve as a catalyst for growth. We firmly believe Greece can establish itself as a major technological hub in Europe and beyond. The good news is that the technology sector is already fast-growing. Jobs in technology continue to increase and the technology sector already constitutes 3% (OECD) of Greece's GDP—a number that can easily be multiplied.
As Greece pursues this opportunity, its biggest strength is probably its highly skilled workforce and entrepreneurial talent. Greece has Europe's second highest percentage of masters and PhD students as a share of its population with most of them being science, technology, and engineering. Greek universities and institutes also produce world-class research. This explains why so many global companies such as Pfizer, Cisco, and of course IBM, among many others, are eager to tap into the potential of the Greek economy.
2. How does IBM hope to participate in the continued rebuilding of the Greek market?
IBM has had a presence in Greece for more than 80 years. And today we continue to help Greek public and private organizations accelerate their digital transformation journeys using powerful technologies such as hybrid cloud and AI.
Greece is very important to us. IBM Greece has grown for the past 6 years, even during the financial crisis when the country lost a quarter of its GDP. We have a strong client base in the country that includes almost all large and medium-sized enterprises. Our clients span almost every major sector, including financial services, retail, travel, telecommunications and energy. 
Today, IBM employs about 380 people across Greece and Cyprus as well about 400 subcontractors. These are highly skilled Greek scientists, engineers and consultants who come from the country's top academic institutions. IBM also operates a data center in Athens. And we have recently created three innovations centers: the Big Data & Business Analytics center, the Service Provider Support Center for DOW Chemical Technology, and the European Banking Center. 
In Greece, as elsewhere, IBM focuses on projects that create real economic value and have the potential to boost Greece's competitiveness.
3. THI is the largest network of Greek diaspora in the world today. Describe how being a member of the global Indian Diaspora has contributed to your success?
Let me start by saying that anywhere you look, Greeks abroad thrive. The Greek diaspora has achieved success on an international scale in a wide range of fields. This is obviously a great source of pride but also a huge potential source of human capital. Organizations like THI that help members of the diaspora build professional and business links with Greece can play a critical role in the country's future.
As for my own experience, I would say that circumstances differ, of course, but what is probably the most important success factor that diaspora members share is the deep value they have in education. Education is both the most portable and arguably rewarding source of capital. In my case, education is also one the reasons I moved to the United States to pursue a PhD in Electrical and Computer Engineering at the University of Illinois at Urbana-Champaign.
There are other advantages as well. Moving to a different country involves risk and uncertainty. Embracing risk is extremely useful in the realm of business and can help diaspora members see opportunity, where others see chaos. Being part of a global network of kinship, language and culture makes it easier to do business across borders, but also to straddle the different and sometimes contradictory values of your birthplace and adopted country such as the need to balance self-reliance with community-mindedness.
Personally, my experience as a member of the Indian diaspora helped me adopt what the Stanford University psychology professor Carol Dweck describes as a 'growth mindset.' That is, having the inherent view that talents are not stagnant. That by persevering, coming up with good strategies and learning from others you can make change happen for yourself and others.