Globally Renowned Sculptor George Petrides sat down with Executive Director Tina Courpas to catch up
November 21, 2022
Tell us about your involvement with THI?
I attended the very first gala, in 2013, when THI was an exciting new idea put forward by impressive leaders. Since then, I have been happy to support THI, donating more than a dozen pieces to THI's auctions, raising tens of thousands of dollars. And I'm happy to donate two more pieces for the December 3rd Gala: two contemporary bronze pieces, cast in Greece: Ajitto and Torso of Anastasia.
A public statue of yours was recently unveiled in Athens – Tell us about it.
On September 14th 2002, 100 years ago to the day of the burning of the cosmopolitan city of Smyrna by the Turkish military, we unveiled a large head called "Refugee – Woman of Smyrna". It honors the up to 125,000 Greeks and Armenians who perished in the fire, and the up to 400,000 others who crammed the Smyrna waterfront seeking to escape (Wiki article here)  Among them was my grandmother Maria who made it out. She arrived in Piraeus in 1922, a young woman leaving a comfortable milieu to rebuild her life in a new land that was not very hospitable.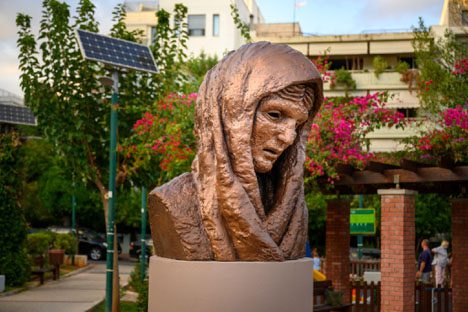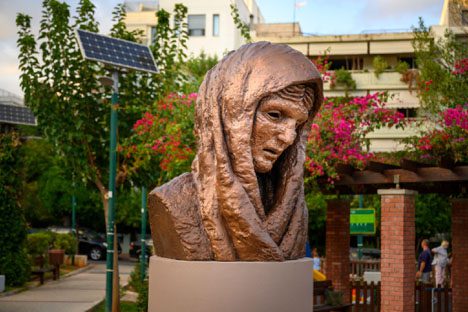 "The Refugee – Woman of Smyrna" in Neo Psychiko, Athens.
Judging from Greek TV, print and online press, the unveiling was a big event in Athens.
Yes, on various levels. Mayor Dimitris Galanis, Minister of Education Niki Kerameus, Deputy Minister of Health Zoe Rapti and other leaders of education and the Church spoke. Parliamentarians and past mayors attended. And hundreds of people, many descended from refugees from Asia Minor.  My mother was there, visibly moved as I conveyed my memories of her mother, the refugee, and her father, who as a mainland Greek had fought in the Greek-Turkish War. I was moved when people came up to me and expressed their feelings. One exclaimed "That's my grandmother!" and in that moment I knew the statue had succeeded.
Where exactly is this Refugee statue? And why there?
There are many areas of Athens where the hundreds of thousands of refugees from Smyrna and other parts of Asia Minor settled in the 1920s, for example Nea Smyrni, Nea Philadelphia, and in this case, Neo Psychiko, specifically around the church of Agios Georgios where refugees from Vourla and Meli settled in the 1920s. The name of the church refers to a church that the refugees' ancestors had built in Vourla, starting in the 1550s.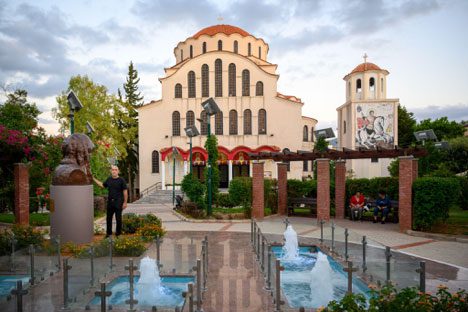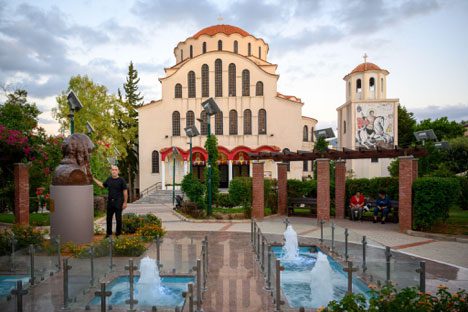 The Church of Agios Georgios in Neo Psychiko; the sculptor and his creation.
The square in front of the church is beautiful, with gardens, a children's play area, and a water fountain with the names of the lost homelands carved into red granite. It had an empty corner crying out for a sculpture! In fact, some of the residents of that area, offspring of the refugees, told me when the garden was laid out the intention was to include a statue – but it had not come to pass. Had the spirit of my grandmother Maria – and many other refugees – guided me to the right place and time to create and present this work?
What about the traveling exhibition "Hellenic Heads"? 
Six over lifesize heads (each about 3 feet high; 6.5 feet high on their bases) were a vehicle for, and the result of, my personal exploration of my Greek roots.Those six heads, and supporting material such as videos, placards, catalogs, are now traveling around the world through 8 cities, sharing our Greek culture and heritage with thousands of people.
As a Greek American – born in Athens and having spent most of my life in the New York City area – I have always been interested in, and occasionally overwhelmed by, my Greek roots. I asked myself: What are the influences that shape Greeks and Greeks of the Diaspora like myself? I chose six historical periods that I felt would show the threads that influence us to the present day:
– Classical Greece (510 BC to 323 BC)
– Byzantine Empire (330 AD to 1453 AD)
– Greek War of Independence (1821 to 1829)
– Destruction of Smyrna (1922)
– Nazi occupation and Greek Civil War (1941 to 1949)
– The Present
For each period, I did extensive research, presented in the catalog published for the exhibition and the videos which you can see on my youtube channel @petridesart. For each period, I sought a sculptural precedent, to see how other (greater) sculptors – Michelangelo, Rodin, Houdon –  dealt with similar themes. For each period, I chose a family member to "pose" for me, in some cases live: my wife as a Heroine of the Greek War of Independence – since her name is Eleftheria (Liberty) and she is generally defiant! And in other cases, sadly, from photographs – my father as Constantine, for example.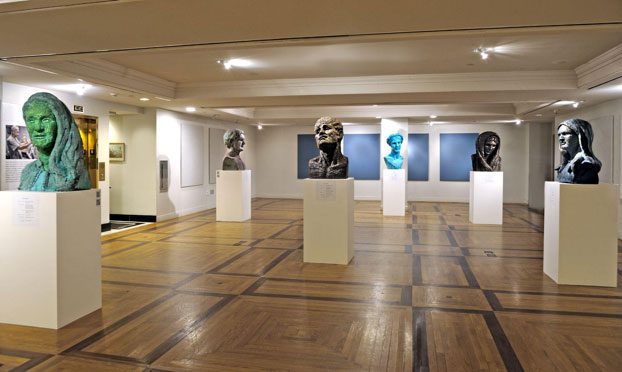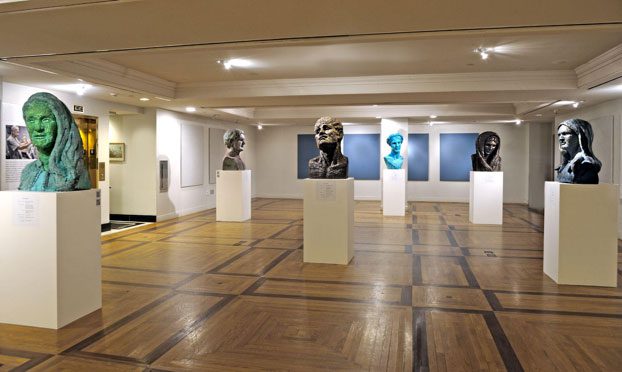 The six Hellenic Heads at the Embassy of Greece in Washington DC (May-June 2022)
And where can we see these Hellenic Heads?
The Heads are traveling to 8 cities, spanning the USA, Europe and the Middle East. I was honored to have had their world premiere at the Greek Embassy in Washington DC at the invitation of Ambassador Papadopoulou. On Europe Day, May 14, 2022, more than 2,000 people saw the Heads! Then they were hosted by Father Alex Karloutsos at The Muses, the cultural center of Koimisis, the Greek Orthodox Church of the Hamptons. He and I took turns presenting the works to Greeks and non-Greeks, including a steady stream of VIPs such as his Eminence Elpidophoros, Pfizer CEO Bourla, Prince Pavlos of Greece, Mayor of Athens Bakoyannis, and many others. Now they are at the Maliotis Cultural Center, which has been revitalized under President George Cantonis and Director Chrysoula Kourkounti. The exhibition will continue to Chicago, Los Angeles, London, Paris, the Emirates and conclude in Athens. Stay tuned at ​https://linktr.ee/petridesart
What's next?
"Mother and Child" is a public statue about 9 feet tall of a very pregnant woman. Yes, nude. We have started fabrication in Athens and will have the unveiling in late January / early February. Next time you are in Athens, in the neighborhood of the US Embassy, take a look around for her.
But what about New York!
Yes, I have a piece coming to a public venue in Manhattan in Spring 2023. And I am sworn to secrecy to say no more until after the unveiling.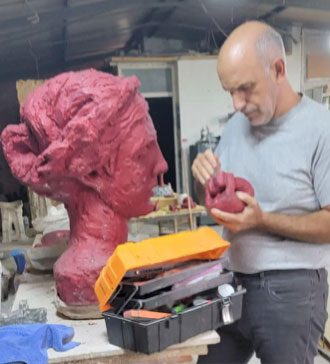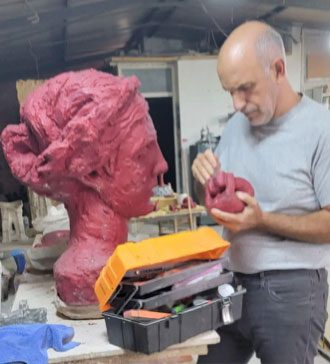 At the Foundry in Greece: Making Torso of Anastasia while Bust of Thalia looks on.
(Look for Thalia next time you are in Washington DC – she is in the lobby of the Embassy of Greece to the USA).
In the meantime?
Bring home your own Petrides sculpture by bidding generously to support THI in our Silent Auction. As contemporary as these designs are, they were cast in Greece using methods very similar to those used by the Ancient Greeks, thousands of years ago.