Global Corporate Partners Program
May 10, 2021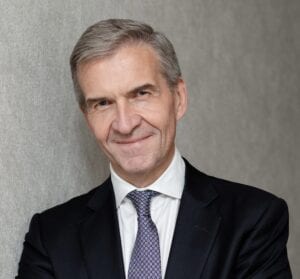 In 2020, THI formed the Global Corporate Partners Program (GCPP). Our Global Corporate Partners commit to annual contributions directed specifically towards Greece's economic development. The following visionary corporations committed as our founding members:  ADM, Corning Incorporated, IBM, KPS Capital Partners, Liveris Family Office, Shearman & Sterling, Teneo Holdings and Pharmathen.  In 2020, their gifts funded THI's Venture Impact Awards, and Regeneration, Greece's largest placement firm, which placed over 500 college-educated Greeks in internships in Greece in 2020.
Shearman & Sterling joined The Hellenic Initiative's the Global Corporate Partners Program in 4Q 2020 as one if its founding Corporate Partners. Shearman is a multinational law firm, with over 850 lawyers in 23 offices around the globe. Shearman has been an active presence in the Greek corporate transaction market since the 1970's, having represented Aristotle Onassis as he transformed the ocean shipping industry through the acquisition and building of larger vessels.  More recently, Shearman represented Piraeus Bank on its $ 4.9 million restructuring in 2015, and China State Grid in its 24% acquisition of Independent Power Transmission Operator, a wholly-owned subsidiary of Greece's state-owned Public Power Corporation, in 2017.
THI asked Shearman & Sterling's Global Managing Partner, George Casey, to discuss Shearman's presence and involvement in the Greek market.
Describe your view of the Greek market today for corporate investment and acquisition.  Do you see opportunity and where?
First of all, congratulations to everyone in Greece and to all Greeks around the world with the Bicentennial that we have just celebrated.  As modern Greece enters the third century of its statehood, I see amazing opportunities for Greece building on its incredible achievements and its history as the bedrock of human civilization and with a renewed focus on sustainable and inclusive growth.  Well known for its outstanding education, entrepreneurial and talented people, culture, climate and geographic location, and having overcome significant recent challenges, Greece today has become a major destination for global capital and is quickly becoming a technological hub in all of Europe.  The most notable recent investments speak for themselves.  Pfizer's decision to open a major research hub in Thessaloniki will draw on talent at Greek universities and institutions and creates new job opportunities in Greece which will incentivize young highly educated researchers to build their careers and realize their dreams at home.  This in turn will lead them to launching new biotech companies in Greece and commercializing groundbreaking ideas in the country.  Similarly, in another area of technology, Microsoft announced its "GR for GRowth" initiative that will include building new datacenters in Greece and bringing its cloud infrastructure know-how to about 100,000 people.  This should also stimulate development of new tech startups in Greece.  This is not just a dream.  When Amazon Web Services recently decided to open its first office in Greece, it was a stamp of approval from one of the most innovative companies in the world that saw a growing number of Greek companies using cloud services provided by AWS.  In other industries, such as energy, Greece is at the forefront: many countries are only starting to talk about renewable energy, whereas Greece is already getting 20-30% of its needs from renewable sources.  Greece's unique geographic location and climate gives it a great advantage of course, but it's the foresight and commitment that ultimately makes the difference.  And of course we are all watching with a lot of interest the Hellinikon Project, which has become the biggest urban regeneration development in Europe.  Very few countries have seen a project of this magnitude.  Hellinikon is a symbol of new Greece and Greek economy. 
How does Shearman & Sterling hope to participate in the continued rebuilding of the Greek market? 
We have a long history in Greece and have been big supporters of Greece and Greek companies in good times and in difficult times.  We will continue to help Greek companies raise capital in international markets to finance their growth and expansion, to represent them in negotiations in mergers, strategic alliances, privatizations, acquisitions and divestitures, to help develop unique project financing structures, and if disputes arise (hopefully not) in solving those disputes.  Given our knowledge of the country, we will also continue to bring international investors to Greece and help them with their investments in the Greek economy.  I believe the opportunities for Greece are enormous and as a global firm that is a little (about 50 years) younger than modern Greece, we are thrilled to continue to be a long-term partner of this amazing country and its people.