Feel Therapeutics Brings Objective Measurements to Mental Health Diagnosis and Treatment
September 29, 2022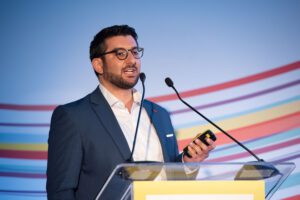 Feel Therapeutics is becoming well known for remarkable technological innovations – the company develops biomarkers and digital therapeutics that bring objective data to the field of Mental Health. What makes Co-Founder and CEO George Eleftheriou and his team of 35 talented and energetic people proud,  however, is the difference their products will make worldwide in the lives of both people with mental health illnesses as they cope with the stresses of daily living, and everyone else when they seek help dealing with the unexpected crises that can overwhelm anyone. 
George explained that, "the mission of the company is to bring objective measurement to the field of mental health in order to provide the best care to individuals who are struggling with their conditions, to prevent mental health crises by being able to intervene as early as possible when we detect a deterioration of mental health symptoms, early on," and to help mental health professionals "be ready to intervene in time." 
By providing data and objective measures to psychiatrists and psychotherapists through their products, Feel Therapeutics makes their efforts much more effective and efficient. 
The judges in Athens on July 11 at The Hellenic Initiative's 2022 Venture Fair – the American-style 'pitch event' that brings together some of Greece's most dynamic startups and interested international and local investors – were very impressed by George's presentation. First prize among the 10 high quality startups was awarded to Feel Therapeutics.
George's drive is both professional – a computer engineer by training, he studied at the Athens Polytechnic and then went to Columbia University for grad school – and personal: growing up on an idyllic Aegean island like Naxos does not prepare you for moving 5,000 miles to one of the most intense cities on Earth, let alone the profession George chose. 
"After grad school, I joined McKinsey and Company in New York, but soon I began to experience anxiety and distress." On top of the strain of the long and intense workday was the stress of life as an immigrant, as well as pressures felt by a young professional in Manhattan paying back student loans with family property as collateral. 
However, just as he was not shy about the pursuit of success, George was not shy about getting the help he needed. "At one point I thought it was good time to see a psychologist and after a few sessions he quickly helped me to overcome the anxiety crises I was experiencing."
With some distance and perspective on what was ultimately a positive experience, he was shocked when he realized that at this late date in the history of modern psychology and medicine, "when it comes to our mental health we still rely on self-assessment questionnaires to come up with diagnoses and making treatment decisions." 
He said that in current practice, "each psychologist and psychiatrist has to examine each patient separately because they don't have available concrete data and measures to rely on." 
The shortcomings in the field became very clear to him through his personal experience, suggesting a need for pioneering efforts, and a few months later fortune smiled on him – and those who benefit from what followed – when he was visited in New York by Dr. Haris Tsirmpas, the man who would become his business partner as Co-Founder and CTO of Feel Therapeutics. 
"He was a good friend of mine from Greece – we also share Naxos roots – and he has a doctorate in biomedical engineering. As part of his dissertation he was working on a technology that can help us understand and quantify human emotions through various wearable sensors that monitor physiological responses. The technology Feel Therapeutics now uses is similar to what Haris was working with in his academic research monitoring the autonomic nervous system. The sensors measure electrodermal activity, heart rate variability, and skin temperature. Surely you have noticed that you sweat when you are stressed, how your heart is pounding and beating faster when you are angry – all those are the psycho-physiological responses that you just experienced after an emotional stimulus."
Feel Therapeutics is headquartered in San Francisco. In the United States the company has mainly business development and some product people, and there another 30 people in the office in Athens – primarily in research and development, engineering, and product roles. George himself is based in San Francisco but comes to Greece often. 
Feel Therapeutics mainly works with large pharmaceutical companies in order to discover novel biomarkers in the area of mental health and neuroscience or to bring their digital health and digital therapeutics solution to market alongside the medications of those companies – with the potential for them complementing each other in powerful ways as treatments. 
"We are about to commercialize some of those products, close to the end of this year," George said. "We are very excited about what is coming next."