Cyprus Seeds Promises Abundant High Tech Harvest for Cyprus
June 5, 2021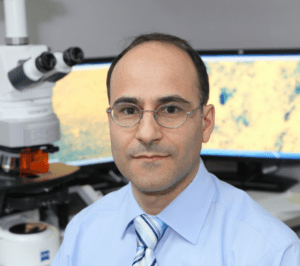 Cyprus Seeds is one of the most promising recent developments in the high tech and biomedical fields in Greece and Cyprus and the first in program in Cyprus to be supported by The Hellenic Initiative.
Innovative research at universities and research centers in Cyprus that have promising commercial applications has moved forward thanks to a $120,000 donation made by The Hellenic Initiative to Cyprus Seeds, and one of the scientists whose team has benefitted and who appreciates its potential is Professor Kleopas A. Kleopa, MD, FAAN.
He is Senior Consultant Neurologist at the Center for Neuromuscular Disorders – ERN Neuromuscular Associated Partner Center for Multiple Sclerosis and Related Disorders, and the Head of the Neuroscience Department and Neuroscience Program Coordinator at The Cyprus Institute of Neurology & Genetics at the Cyprus School of Molecular Medicine, where his 10-person team is based. 
He grew up in Nicosia and studied medicine in Germany, moving to Philadelphia for studies in his specialization of neurology at Drexel University and the University of Pennsylvania. 
Dr. Kleopa's professional path is simultaneously conventional and exceptional, but his humble origins in a farming family strongly impacted his passions and choices. 
His parents are both from a village in the Cyprus Troodos mountains, and he said, "I was a good student, with a lot of curiosity. The environment I grew up did not provide academic or scientific excitement, but being immersed in nature stimulated my curiosity … I observed the changes of the seasons, the development and lives of the animals, and I learned many, many things that you don't read in books or learn in school." 
It also helped that he didn't have everything at his fingertips on the internet – Dr. Kleopa delighted in going out and seeing for himself what was going on and how the world worked.
"I also realized early on I wanted to help people, and through today that is my main motivation in life."
Of course, his family molded that character and ethos. "My grandparents and parents, because they themselves did not have such opportunities, always promoted and supported mine, and my sisters' educational progress."
The importance of helping people took him on a research path rather than a medical practice, however, because he grasped there were tremendous developments down the line from scientific breakthroughs he wanted to be a part of.
"I wanted to push medicine beyond the point where I found it," Dr. Kleopa said. While he was studying medicine in Germany he was also working in laboratories, where his brain studies solidified his interest in neurology and neuroscience. 
"And that is where I saw clearly that there was so much we did not know, but I could not work in neurology without adding my pebble to the growing pile of knowledge."
At the time, in the mid-1990s, there were so many diseases for which there were no treatments, and so many where they did not even know the causes and the genetic roots, that he felt compelled to do something about the suffering afflicting so many families.
Dr. Kleopa was thrilled to be part of the acceleration in knowledge and the development of treatments that were once unimaginable.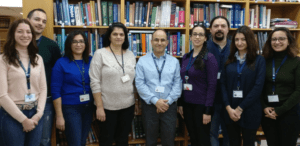 Even for its stars, contemporary science is never an individual sport. In addition to his respect for his colleagues Dr. Kleopa emphasized that many great teachers and mentors helped him and were critical to his success. Not least among them, at U. Penn the renowned Dr. Stephen Scherer taught him to think and write scientifically and plan and conduct experiments.
And he was delighted that Dr. Scherer visited him in Cyprus. "He also loved geology, so I took him to places like the Cavo Greco" – at the southeast tip of the island nation – "which is noted for its geological finds, and to Troodos, which is an inactive volcano –and he was thrilled."
The importance of mentors is one of the things which draws Dr. Kleopa to The Hellenic Initiative, which he discovered when The Hellenic Initiative hosted a conference where he presented research. He also noted that, "for me, the Diaspora is very important. I have Greek friends in America and I know that they can help young Greek and Cypriot doctors and scientists very much in their pursuit of international careers."
That is important, he said, because "to achieve something in the sciences in Greece and Cyprus one has make 10 times the effort that is required in the United States. At U. Penn I had all the equipment and support I needed. It's much more difficult here – facilities are limited, funding is virtually non-existent, and there is not yet a critical mass of scientists. There is a role that The Hellenic Initiative can play that is very important: helping young people in Greece and Cyprus who will benefit from the cooperation and help that only exists outside."
Nevertheless, there are exciting developments in Greece and Cyprus – like Cyprus Seeds. "It began last year and it's a very good initiative because it bridges a crucial gap." He explained that, "in Cyprus there are numerous excellent academic groups and academic foundations, but they are not connected with the commercialization process, the path from research findings, discoveries, and innovations to the market."
"We were among the teams that were chosen the first year to participate, he said. "The assistance we received was exceptional regarding know-how, information about how you apply for patents, moving forward with negotiations with companies about licensing, market research, and such things."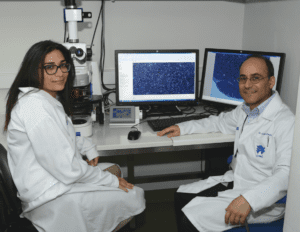 The training received by participants "was unique for Cyprus. It did not exist here."
His own group has benefitted tremendously – Dr. Kleopa noted they have signed agreements with two American companies.
He also points out that that one of the things Cyprus still lacks is a true 'technology transfer' office. At this time his group relies on the technology transfer offices of institutions in the United States that they are working with, such as the Nationwide Children's Hospital in Ohio.
Dr. Kleopa believes The Hellenic Initiative's network can be helpful in this regard, as The Hellenic Initiative has been helpful to Cyprus Seeds in many ways. He also agrees that the deepening U.S.-Greece-Cyprus-Israel relationship will be very beneficial to scientific and technological endeavors and scientists and technologists on Cyprus, especially in the biotechnology and biomedical fields.