Chris Theophilides is Sailing Into a Bright Future for Greece with Celestyal Cruises
January 24, 2023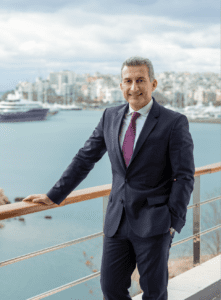 Greece-based Celestyal Cruises "is the number one choice for travelers to the Greek Islands and Eastern Mediterranean… a fact we love to share!" announces its website, Celestyal.com. Chris Theophilides, the CEO likes to tell the story of how that came to be. 
"Celestyal Cruises was formed in 2014 building on decades of cruising expertise of our then-parent company, Louis plc, he said. "Celestyal focuses on immersive, multi-destination tours by sea in the Eastern Mediterranean. Within a very short period of time, we have received numerous awards and accolades for the unique experiences Celestyal delivers, both onboard and on-land. It is by no coincidence therefore that North Americans make up 50 percent of our guest base and that they view Celestyal as the best way to see the Greek isles and the wider Eastern Mediterranean region."
In 2021, Searchlight Capital Partners, a leading global private investment firm based in New York, purchased a majority stake in Celestyal. "It is a testimony to our unique market positioning that we were able to attract such a sophisticated group of investors," he noted. 
Celestyal is well-known for its unique, destination-focused itineraries that typically visit a mixture of marquee destinations such as Mykonos and Santorini along with hidden gems such as Patmos and Milos. 
Chris notes that, "we also operate unique seven-night cruises such as the 'Idyllic Aegean', 'Eclectic Aegean', 'Three Continents', and 'Steps of Paul', which target travelers looking for an immersive experience into the Greek islands and East Med." 
Naturally, the voyages of a lifetime include fantastic culinary experiences. "We are already known and recognized for our focus on authentic Greek cuisine and signature warm hospitality, but we've kicked it up a notch with a new culinary experience in collaboration with Diane Kochilas, one of the world's foremost experts on Greek and Mediterranean cuisine. 
He knows Hellenes and Philhellenes in America well. "I am fortunate to have had a diverse upbringing. I was born in Cyprus but relocated with my parents at an early age to the United States. As a result, many years of my upbringing were actually in the United States," a fact the helps him shape Celestyal's offerings.  
"Greek-Americans who have already visited Greece in the past to see family and friends might not have had the chance to dive deeper into the country. Our reimagined itineraries along with our onboard My Greek Table dining experience and new shore excursion program allows them to do just that.  Our company's philosophy is built on authentic Greek heritage and outstanding 'filoxenia – hospitality', which truly makes Greek-Americans feel right at home."
And he is also very familiar with the friends of Greek-Americans who like to travel, for example, the members of the Jewish American community. "We offer the perfect itinerary for Greeks and their Jewish friends to experience the wonders of both Greece and Israel together. Our 'Three Continents' itinerary is returning this fall following a pause during the pandemic. This unique and highly successful seven-night itinerary calls on Greece, Turkey, Israel, Egypt, and Cyprus."
For the upcoming holiday season, Celestyal has launched "an exclusive ten-night holiday sailing allowing Greek and Jewish friends to spend the holidays together in the Holy Lands. These Celestyal itineraries present a wonderful opportunity for both the Greek-American and Jewish-American communities to explore their respective cultures together in these amazing destinations."
Celestyal is among those travel companies that have managed the COVID pandemic well. "Despite the challenging past two years, the cruise industry at large has proven to be extremely resilient," he said, adding that, "this year has already seen the commencement of a return to normalcy and as such, we have begun to gradually relax some of our COVID protocols." 
Celestyal is now able to look farther into the future. "As we look to 2023, we will actively pursue our goal of fleet renewal with a view to expanding the experiences we offer to our guests, both onboard and ashore," Chris said. 
Greece too, is enjoying the fruit of its successful COVID and tourism policies. "As far as recent developments, particularly in the Mediterranean region are concerned, Greece is leading the way in the recovery," he said. 
And in the context of building the New Greece, of which his industry will be a dynamic part, Chris says, "we would like to see the Greek government create a strategy to further develop sea tourism in our country but in a responsible and sustainable way. It is vital that we as a nation work together across both the public and private sectors to ensure that our existing port infrastructure can improve to better accommodate cruise ships without negatively impacting the environment or disrupting the local communities."
Those are the principles that attracted Chris to The Hellenic Initiative. "As a Greece-based company, Celestyal is deeply committed to supporting the communities where we live and work," he said. "We have long been a supporter of The Hellenic Initiative and the work you do. In 2020, in the early days of the pandemic, we formalized our relationship into a strategic partnership.  We saw launching this partnership with THI during the global pandemic as pivotal towards helping to jump start Greece's economy, which was so deeply impacted by the loss of tourism, an industry that is fundamental to the economic vitality of the country and the livelihoods of so many of its residents."
Chris concluded the conversation by emphasizing, "there is no better organization than THI to propel the Greek Diaspora towards a common goal of helping Greece in a time of need, and we're thrilled to be working towards this common goal as the organization's exclusive cruise partner."