Cathy Papoulias-Sakellaris joins THI Board
August 23, 2022
Brings Vision, Energy and Experience Empowering Women Innovators
The Hellenic Initiative (THI) is pl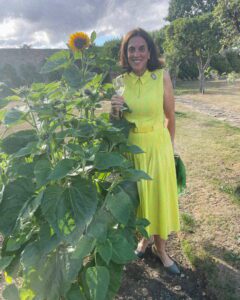 eased to announce that Cathy Papoulias-Sakellaris has joined its Board of Directors. Founded in 2012, THI is a global non-profit organization that brings together Diaspora Greeks and Philhellenes to invest in Greece today through programs focused on economic development and crisis relief. Since its founding, THI has invested approximately $20 million and is the largest Greek Diaspora organization in the world.
Ms. Papoulias-Sakellaris brings a wealth of private sector corporate experience, particularly in the areas of strategy and marketing, as well as significant expertise in philanthropic, civic and charitable organizations, both within the Greek Diaspora community and elsewhere.  Her recent activities include mentoring female entrepreneurs at Northeastern University, an expertise she plans to bring to The Hellenic Initiative's mission to support start-ups in Greece.
Ms Papoulias-Sakellaris served early in her career as Vice President of Global Accounts at Nielsen Marketing Research, a division of Dun & Bradstreet Corporation. There, she was responsible for developing and implementing a worldwide marketing, sales, and service organization strategy.    At Nielsen, she also held the positions of National Vice President – Sales Software and Systems, Managing Director, and General Manager. 
Prior to joining Nielsen, she worked at ITT's Information Systems Division (a start-up division) as Director of Sales and Engineering. She also held a variety of sales and marketing positions at Proctor & Gamble. 
Papoulias-Sakellaris currently serves on the board of International Public Power. She is active in many civic and philanthropic organizations, including Families First and the Museum of Science in Boston, and served on the Board of Trustees of Milton Academy.   Cathy is also a judge and founding member of Northeastern University's Women Who Empower Platform, a judge for its annual innovator awards, and a mentor for female entrepreneurs.
Active in the Greek-American community, Papoulias-Sakellaris serves on the Board of Trustees of Leadership 100, where she most recently served as Conference Chair for its 2lst Annual Conference. She is also a member of the Founders Circle of Faith: An Endowment for Orthodoxy and Hellenism and is active in the Hellenic Women's Club.   She is married to George P. Sakellaris, and the couple has two children.  The Sakellaris family resides outside of Boston, where they are primary benefactors of St. Catherine's Church in Braintree, Massachusetts.
George Stamas, THI Board President, stated: "Cathy Papoulias-Sakellaris brings both significant private sector and philanthropic Board experience to THI, as well as a track record of supporting female innovators. Her experience is directly relevant to THI's mission.  She is dedicated to excellence and Hellenism and a valued and welcome addition to our Board."
Andrew Liveris, THI Board Chairman stated: "We are pleased to welcome someone of Cathy's vision, energy and experience to the THI Board.  We look forward to the contributions she will make to THI in our next decade of uniting the Diaspora for Greece."