Acropolis Reconstructed by MOPTIL
February 8, 2022
An interview with Michael Kokkinos, founder of MOPTIL
By Kyveli Hatzizisi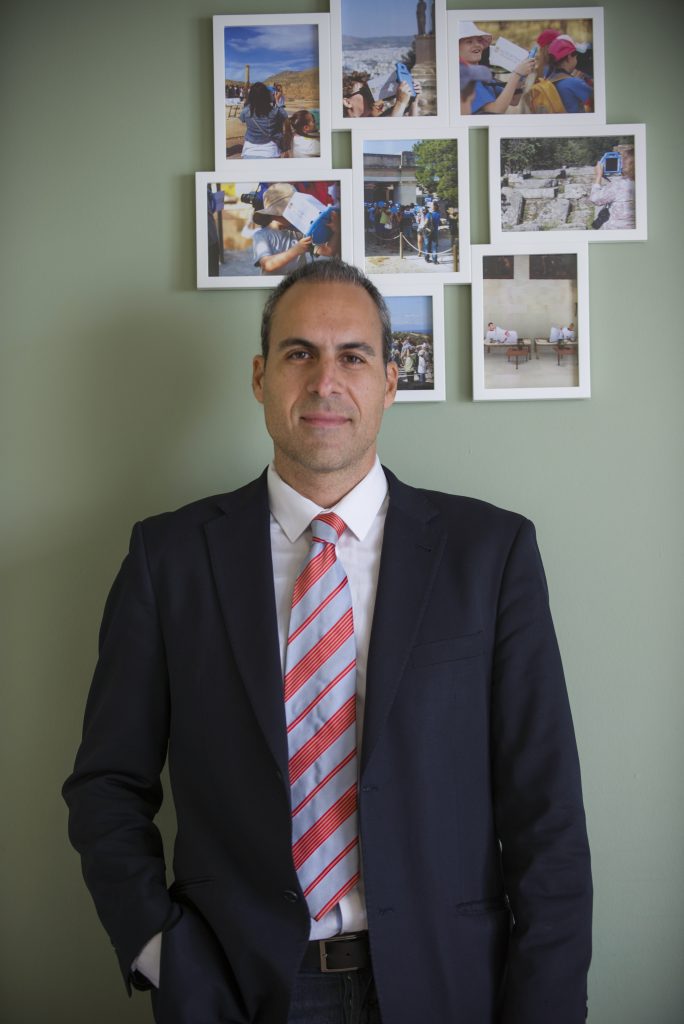 He brings together the past, the present and the future. He combines technology with history. Entrepreneurship with romance. IT with archaeology. Michael Kokkinos, aka Mr MOPTIL, and his team have created a startup which allows us to tour the glorious past of eight "restored" Greek archaeological sites (among them, one located in Spain), with the help of tablets and VR glasses. Through virtual reality, we can see what the ancient monuments look like today, but also what they looked like two and a half millennia ago, when they were teeming with the lives of our ancestors.
Kokkinos combined his strong background in business and information technology with his involvement with digital museums and his love for ancient Greek literature, deciding to merge his profession with his hobby, during the economic crisis. With the support of his team of programmers, 3D artists and archaeologists, he founded Mobil Optical Illusions, which was one of the winners of this year's Venture Impact Award, established by The Hellenic Initiative (THI). In our interview he was concise and polite, answering every question posed to him via Zoom, but at two points during our conversation his eyes lit up.
The first was when he talked about his beloved "restored" site of Delos. "The people of Delos were living in splendor at that time. It was a focal point for trade. People from different parts of the world were coming to this small island to trade their goods. There were shops, small or bigger houses, many statues, temples, buildings with wonderful architecture and magnificent columns and mosaics. The island was full of life… It is very impressive and thrilling to see all these details through virtual reality."
The second was when he was asked about MOPTIL receiving THI's Venture Impact Award. "This award is very important for us. On the one hand, it has a great impact on Greeks abroad. We really want both Greeks in the country and those who live elsewhere to get to know our work. On the other hand, the award is preceded by a very serious evaluation process among hundreds of candidates. Finally, the award is accompanied by a cash prize (25,000 US dollars), which will help the entire MOPTIL team go one step further."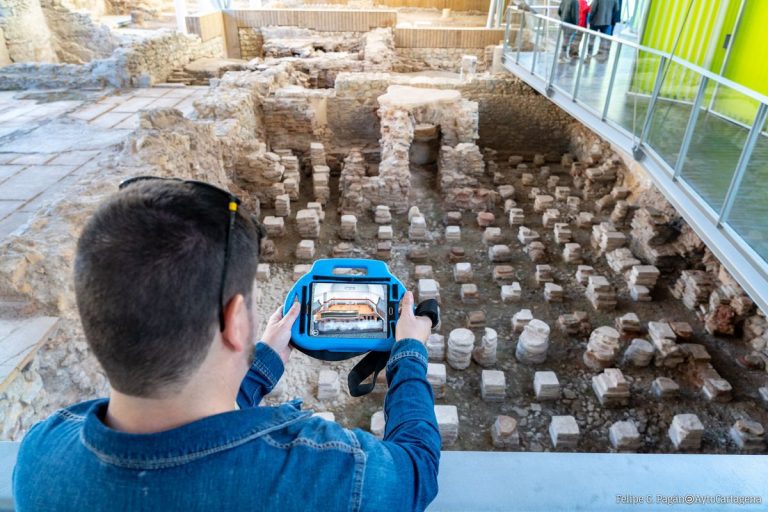 Thanks to the initial idea, goodwill, market research and the cooperation of competent professionals, Kokkinos and his team talk about the glorious past of Greek archaeological sites in the language of youth, which is none other than technology. Moreover, they already have their next project in the works, which is to breathe life into the spirit of ancient Greeks; to see Socrates, for example, unfold his philosophy through virtual reality!
How did the idea of MOPTIL come about?
As a child, I would read ancient Greek literature. I was particularly fascinated by the stories of antiquity. I became particularly interested in how I could integrate our cultural heritage into technology. Of course, my professional background is in technology and commerce, information technology in particular, so I thought I could combine what I had chosen as a profession with my hobby. Looking to see, in 2013-14, if there was something similar to what I was considering (i.e., apps, especially tablets and glasses, with 3D virtual representations of the ancient Greek element), I was surprised to find there were only two or three experimental apps. So, I founded the startup.
What specialties make up your team?
There is the software development team, which is supported by 3D artists, the artists who forge antiquity in the virtual world. There are, of course, the programmers and the archaeologists, with many scientific publications, who advise us so that the reconstruction of the archaeological sites is as accurate as possible. I admit that it is a painstaking effort because it is always necessary to correct details that cannot be programmed. Of course, it is precisely thanks to this painstaking and detailed editing that the result is so valuable.
What is the audience for your products and services?
Travelers, not necessarily tourists, and history lovers. Greeks and foreigners alike. And of course, students. The company's vision is to make the young generations fall in love with our cultural heritage through their own language, and there is no other language for young people than technology.
How can someone gain access to your virtual tours?
They can purchase the program for any site they want through Digi-Past, found in the Play Store, for tablets and glasses. So far, over 300,000 people have taken our tours. Notably, a major tour company has included us in all its visits, and so it provides its clients with a tablet through which they can see the past of the place they are visiting – that is happening with other tour agencies as well.
Your list of archaeological sites includes the Acropolis, Delos, Delphi, Knossos, the Asclepius of Kos, Lindos, Olympia, and Cartagena's archaeological site in Spain. What criteria are used to select the sites?
Their importance and, of course, the number of visitors they attract play a key role. We decide to invest in sites that will, at a minimum, bring back our capital invested.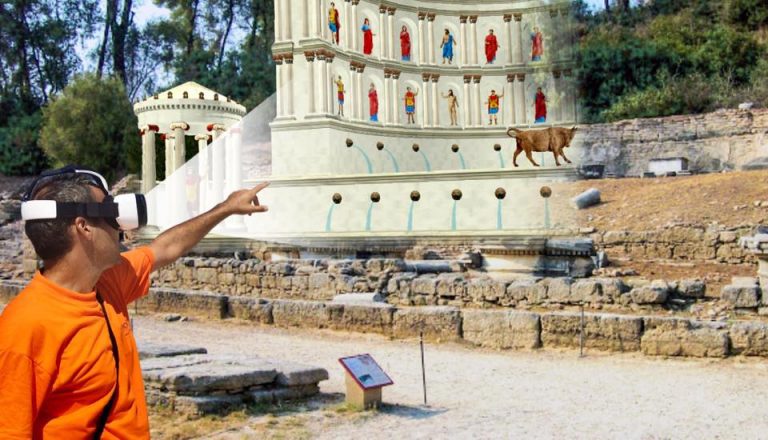 Finally, does technology help or negate the memory created by physically visiting a site?
Memory holds the actual experience. However, when the real world is combined with the virtual, that experience is enhanced. Recently, on the occasion of an exhibition hosted at the Benaki Museum on the Greek Revolution, we created a virtual reality series of exhibits. The visitor saw Karaiskakis "coming alive" or smoke "coming out" of the painting. That creates added value for the memory, but also the experience. We intend to use virtual reality to "bring to life" the ancient Greek spirit as well. We have not begun implementing this project yet, but can you imagine what it will be like when, via technology, we are guided through an archaeological site by Socrates?
#VentureImpactMakers: a series of interviews by αθηΝΕΑ with the winners of this year's Venture Impact Award (VIA) of The Hellenic Initiative. The VIA aims to support Greece's brightest and most talented teams, helping them create ventures that are scalable, sustainable and able to demonstrate not just a quick return on the investment but also a broader impact on the society at large. VIA was founded with the initial support of The Helidoni Foundation and the Estate of Charles C. Condes.