THI/TNH Takeover – Renos Savvides
September 1, 2021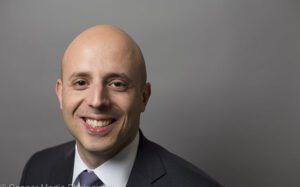 The National Herald and The Hellenic Initiative, have begun a partnership to introduce the NEXTGEN of Greek/Cypriot 'movers and shakers' to the rest of our Diaspora community around the world. Established to inform its readers about all things related to our homeland and its respective communities throughout the world, TNH is now providing THI's New Leaders (40-years-old and younger), with a new platform to showcase their ideas and to engage their communities in a deeper, more meaningful way while simultaneously building a bridge to Greece and Cyprus. Our next featured New Leader is Renos Savvides. Get to know him below!
Last Name, First Name
Savvides, Renos
Alma mater?
The Wharton School, University of Pennsylvania
What city do you live in?
New York, NY
Where in Greece/Cyprus are you from?
Both parents are from Nicosia, Cyprus.
Occupation?
Investment Banking
What motivated you to get involved with THI?
THI is unique in that it's a truly global organization, connecting the Greek diaspora across the globe.
Additionally, its mission centers around charity and economic development, causes which will have a lasting impact on our homeland. The organization has succeeded in bringing together the best and brightest minds from all over the world to further these important causes.
Favorite activity to take part in where you live?
I love walking around SoHo near my apartment in downtown Manhattan. For me, it's the best place to absorb the energy, diversity, and architecture of New York.
Favorite place to take your non-Greek friends when they visit you in Cyprus?
Fig Tree Bay in Protaras, Cyprus
Favorite Greek product you can find outside of Cyprus?
Halloumi cheese – and I'm thrilled it's become mainstream!
Top three people of Greek/Cypriot descent you admire?
Tina Fey
Dinos Iordanou
George Stephanopoulos
In addition to THI, how are you involved in/helping the Greek/Cypriot community?
Apart from THI, I am a founding member of the Cyprus Young Professionals of the Cyprus-U.S. Chamber of Commerce. I also stay connected to the community through seasonal functions and other Greek-American professional and charitable organizations.
What is the biggest crisis Greece/Cyprus faces today?
Greek and Cypriot entrepreneurs lack the startup ecosystem necessary to scale their businesses into truly global enterprises.  Currently, there is a lack of institutional venture capital, mentors, incubators, and professional networks focused on this part of the world. THI's mission can help unlock the potential of these bright, gifted entrepreneurs, and help them grow their businesses and create sustainable development in their communities.
One piece of advice an elder has given you that has proved invaluable?
Work relentlessly, keep learning, and try to improve yourself on a daily basis – but above all, believe in yourself!
Favorite quote from a Greek philosopher?
"En oida oti ouden oida" – All I know is that I know nothing – Socrates
How has your Hellenic background helped shape who you are today?
Many Greeks arrived in the U.S. as refugees, and almost all were poor. Yet through hard work and a commitment to education, members of our community have become leaders in business, politics, medicine, and countless other fields.  These values of determination, purpose, and resilience have served as guiding principles throughout my life.
Life Motto?
Always do what you are afraid to do – Emerson.