THI/TNH Takeover – Alexandros Papadopoulos
July 19, 2021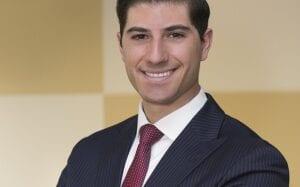 The National Herald and The Hellenic Initiative, have begun a partnership to introduce the NEXTGEN of Greek/Cypriot 'movers and shakers' to the rest of our Diaspora community around the world. Established to inform its readers about all things related to our homeland and its respective communities throughout the world, TNH is now providing THI's New Leaders (40-years-old and younger), with a new platform to showcase their ideas and to engage their communities in a deeper, more meaningful way while simultaneously building a bridge to Greece and Cyprus. Our next featured New Leader is Alexandros Papadopoulos. Get to know him below!
Last Name, First Name
Papadopoulos, Alexandros
Alma mater?
Boston University
What city do you live in?
New York, New York
Where in Greece are you from?
I was born and raised in Athens.
Occupation?
President & CEO – Papadopoulos Group
What motivated you to get involved with THI?
Since I emigrated to the United States in 2009, I was always looking for ways to stay connected to my roots whilst giving back to Greece. When I moved to New York City, I found out about The Hellenic Initiative and its core mission to unite, invest, support, and promote Hellenism around the world. Its renowned reputation for promoting philanthropy, encouraging entrepreneurship, and giving back really inspired me. I am very humbled to have been invited to join the New Leaders Executive Committee and its global movement.
What do you hope to achieve through THI?
I would like to help in further bridging the gap between the United States and Greece whilst strengthening the next generation of leaders.
Favorite activity to take part in where you live?
I enjoy reading, playing, tennis and skiing.
Favorite place to take your non-Greek friends when they visit you in Greece?
Spetses
Go-to Greek dish when you're missing the homeland?
Giouvetsi
Favorite Greek product you can find outside of Greece?
Greek Extra Virgin Olive Oil
Top three people of Greek/Cypriot descent you admire:
Pete Sampras
George Stephanopoulos
Jennifer Aniston
In addition to THI, how are you involved in/help the Greek/Cypriot community?
I serve on the board of directors of Hellenic American Bankers Association (HABA) and I am also a National Hellenic Society member
What is the biggest crisis Greece/Cyprus faces today?
Greece's overall unemployment rate is currently 15.8%. This does not only impact its economic agenda, but it also profoundly induces a brain drain. By providing more economic incentives, removing red tape, and investing in entrepreneurship, we could potentially see the light at the end of the tunnel.
One piece of advice an elder has given you that has proved invaluable?
Pursuing your self actualization is what will ultimately fulfill you.
Favorite quote from a Greek philosopher?
"We are what we repeatedly do, excellence then, is not an act, but a habit" Aristotle
One Greek/Cypriot tradition you'll never stop keeping?
Tsiknopempti
How has your Hellenic background helped shape who you are today?
My parents taught me early on in life how values and virtues define you. Their love, support, empowerment and guidance has always been invaluable. My devotion to building my Hellenic virtues from a young age shaped who I am today. Virtues like philotimo, wisdom, fortitude, humility, integrity, and honesty are what define me.
Life Motto?
"There is nothing impossible to him who will try" – Alexander the Great