Maria Sophocles – Passion and Commitment
April 14, 2021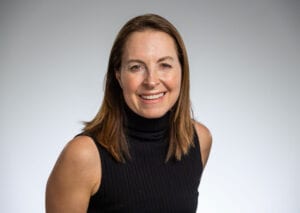 While philanthropic endeavors bear heavy burdens as they attempt to meet myriad needs, philanthropy also draws from a multitude of sources, many charities gathering their resources as much from large numbers of modest contributions of all kinds as from grand benefactors. 
Maria Sophocles, Medical Director, Founder, and owner of Women's Healthcare of Princeton, is a gifted gynecological surgeon who comes from a family of healers and givers. Her father is from Cyprus and her mother's parents were born in Greece, and several of her relatives are doctors and dentists. 
"My uncles inspired me to go into medicine because I loved how they were helping people and their community." The family heritage also motivates her to devote time and energy to organizations and causes she believes in. 
While their net worth is relatively modest, Maria said she and her husband Alex Martin try to make up for that on the philanthropic front in several ways. That includes, she said, "finding people who can provide robust resources and directing them to charities or initiatives that need it." 
She herself would love to eventually help The Hellenic Initiative set up a program that involves women's health, to be sure Greece is caught up with the rest of the developed world in provisions for women's health. "I look forward to getting more involved in whatever ways they need – or in bringing ideas to them."
Alex is half Greek – his mother's roots are in Sparta and Corinth – and shares her love of Greece. He works for a biotech company, and Maria says he can contribute to Greece's effort to become a biomedical power. "I love what The Hellenic Initiative is doing," Maria said, citing its "pre-COVID events hosting venture capitalists. "I could envision Alex down the line getting more involved with The Hellenic Initiative in that vein." 
They are already on board that dream by being part of Fondation Sante – an organization established by Greek venture capitalists. "CEOs and Biopharma people of Greek descent meet in Greece every year and raise money which is donated to help Greeks in the sciences get postdoc fellowships or other scholarships to further their training," she said.
Maria also wants to bring more like-minded people to The Hellenic Initiative. "My husband and I are connectors, she said, adding "we like to bring people into the sciences who have potential and help develop them. We have different passions and interests, but as a couple we both feel that way." 
She said she is "super excited," about The Hellenic Initiative's energy and vision as represented by its leaders, including Executive Director Peter Poulos, whom she knows from their youth. Maria describes the The Hellenic Initiative spirit as "Come on! We've got to preserve the antiquities, we've got to provide kids with school lunches, we've got to bring in investment money!" 
"It's exciting," Maria said, and she also appreciates that The Hellenic Initiative has an aptitude for identifying those not-for-profits and young entrepreneurs and starts up that are among the more effective and promising. 
At the moment, Maria is devoted to numerous initiatives in the United States related to her field. "For example, HPV vaccination is horrific in the U.S. Only 16% of American teens are vaccinated. There is a lot of misinformation out there, but in countries where children are vaccinated, the cancer rate plummets."
Along those lines, Maria also has Greek needs in mind. "We can begin in Athens … or let's pick an island and make sure the women's health care clinic there is super progressive and absolutely great. I dream of partnering with THI in some way to do that."
She noted, "my husband went to business school with Prime Minister Mitsotakis," and being a leading gynecologist in the United States, Maria can easily imagine conversations where she tells top officials, "what if we decided that women's health care in Greece was not going to lag but was going to be really top notch, something that would positively affect the women in Greece in a massive way?" 
Her love for Greece has family and personal roots. Growing up outside Philadelphia attending the local Greek Orthodox church and going to Greek school provided her life with a Hellenic foundation, but it seems her devotion to Hellenism has even deeper roots in her soul. 
"I have a love of the sea" – Maria explained – "and a love of creation." She is a creator herself, dedicated to woodworking and pottery, and all these threads draw her to anything that has connections with the classical world and ancient Greece. "I love the Pre-Raphaelite artists," of the late 19th century who were inspired by classical themes. 
She was an English major and also loved art history, "but ultimately I went into gynecology because I love the idea of helping women – I am a surgeon – so it's a twin passion." 
Or a triple calling, putting her hands, heart, and mind at the service of medicine and humanity. 
Like many Greek-Americans, lacking opportunities to speak the language, Maria's Greek remained at the conversational level, but having learned French and Italian, she knows she has the required linguistic ability, so she looks forward to diving back into learning Greek. 
And like others in the Hellenic Diaspora, Maria and Alex see themselves spending more of their time in Greece in the future. 
"I would be Ok starting gently, coming for a month every year and then stretching it to two and more … Over time I want to be working less, and moving toward broad initiatives," which will release time for living and giving in the Hellenic homeland. 
One of the COVID pandemic's silver linings is the realization that we can really work from anywhere, which has brought a powerful flexibility into people's lives. Maria is thrilled that technology has opened a new gateway into Greece both for Hellenes born in the Diaspora and for talented young people who were forced to leave by the Greek economic crisis, and she values THI's multifaceted contributions to reversing the brain drain.