Stelios Boutaris – Life and Entrepreneurship on the Border of Tradition and Revolution
December 2, 2020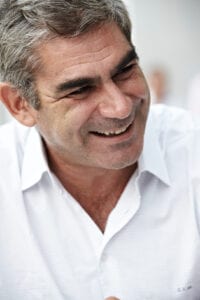 Stelios Boutaris is at the forefront of the Greek wine renaissance and revolution. His name is well known in the Dispora. As we learn at kiryianni.gr, his father, "Yiannis Boutaris, one of the leading figures in the Greek wine industry," established Ktima Kyr Yianni "when he left the Boutari Wine Group, the premium family wine company that his grandfather established in 1879." Stelios is now its CEO & Winemaker.
Experiencing the Diaspora in the United States when he studied at Wesleyan in Connecticut and lived in New York and Chicago for three-and-a-half years in the 80s and early 90s when he sold wines, Stelios learned the U.S. market well – and made many dear and valuable friends. 
Stelios is in a unique position to talk about the Greek wine miracle. When he was in the States, Greek vineyards did not generally have a good reputation and only the 'assyrtiko' variety from Santorini was appreciated. Now, everyone can see that Greek wines are occupying growing space in American wine shops and are on the wine lists of the best restaurants – and not only Greek venues. That did not happen by accident.
"In 2007," Stelios said, we Greeks got together because we knew that in order to penetrate the international market, we needed a strategy. We came up with a strategic plan for promoting Greek varieties, aiming at the mid to high end of the market." 
Understanding that they could not generate the volume needed to compete with the big producers for the mass market, they "commenced a campaign to tell the story of the wines of Greece, focusing on four varieties: assyrtiko, agioritiko, moskofilaro, and xinomavro," he said. 
These companies and families who were competitors realized that in order to thrive, they must work together to boost the general reputation of Greek wines.
"I am a big believer in growing the pie – then everybody gets a bigger piece," Stelios said, adding "but it's also very important that in addition to the generic campaign, the individual companies must undertake private campaigns to make their wines" more attractive and exciting.
He also noted the importance of the EU's decision to spend money on promotion. Until 2010 the EU funds were for passive measures in the context of the marketplace, programs like vintage uprooting that actually took supply out of the market. The Greek producers then "decided to start building demand by promoting outside the EU. With a small budget we started working all together and built the foundation," he said. 
That enabled them to all rebound from the Greek economic crisis and move forward. 
He also noted that EU subsidies are generally being used more effectively now in Greece, so the future is brighter in many sectors.
Stelios also sang the praises of the new generation of wine makers that emerged in the 1990s, most of them well-educated in winemaking and creating their own wineries. "All of a sudden you had a renaissance in Greek wine making. They did well moneywise, and 20 years later they were much more mature, and when the Greek crisis came, they started looking outside of Greece."
And that was good for the country's reputation because unlike other products, such as olive oil, the Greek origin is obvious right on the label. 
There are of course limits to Greece's wine potential, but contrary to popular opinion, a shortage of arable land is not the problem. "I don't think the land is an obstacle if you have the right people. All you need is people who are driven and with vision to run the land."
And a number of generations of Greek growers have worked with Israeli firms to expand production, through technologies like drip irrigation. Vineyards don't need to be grown in land with the richest soil and the most rain Stelios explained. 
Since 2010 the number of wineries in Greece have almost tripled, from 400-500 to more than 1,600.
"A lot of people who were not involved with wine got into the wine business – because it is sexy," Stelios noted, "but they quickly realized how difficult it is. They thought it was easy, but it is very capital intensive."
The other important factor is that there are many grape growers. "There is one in Nemea who farms an area of 100 stremata and made a good living selling to the local co-op. Suddenly his son, who is educated, studied oinology, etc. and he wanted to make his own thing. He decided to create a new label and commercialized the wine locally, and this helps a lot."
Another recent important development is oino tourism. "It's huge. It's growing a lot lately."
The potential for Diaspora Greeks to invite their non-Greek friends to Greece and do the things they are used to doing in their home countries – like visiting wineries – is tremendous," Stelios believes. They and their friends can visit their home regions and places in Greece their families never took them to. 
"People aren't aware of this, but this tourism season was saved by people from Israel. It was amazing. And they don't go to Santorini and Mykonos – they love trekking, so they go to Zagoria, Thessaloniki, etc. It's a new kind of tourism."
When the conversation turned to The Hellenic Initiative and its commitment to help move Greece beyond the current crises by helping young entrepreneurs, Stelios' enthusiasm continued. 
He heard about THI from its executive Peter Poulos and Boutaris' wife, who is from the Lalaounis family. Stelios also speaks with other people about "how much the Diaspora can really help. I think that in Greece we have not managed to make the best of it – like other countries such as Israel do … We are often not comfortable with Diaspora people. There is often a feeling of competition," Stelios opined. The issue is a complex one, and involves shortcomings on both sides. "Many Greek-Americans thinks of Greece in a way that they liked and experienced when growing up there, and very often Greece has developed in ways that they do not like," so he emphasizes that dialogue is important.
Greek-Americans born in the United States, however, love the Greece they discover when they visit, and THI can help build on that, Stelios believes.