George Petrides: Creative Paths to Philanthropy in Athens and New York
November 3, 2020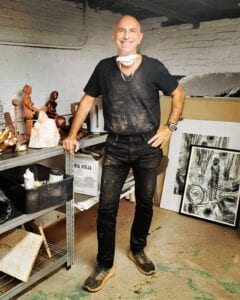 Having a foot planted in two worlds is nothing new for sculptor and former investment banker George Petrides. It began with his childhood in two cities on two continents. Born in Athens, he and his family moved several times between there and New York, as his father worked in both locations for "Big John" Goulandris and later for Leonidas Goulandris.
In both cities and beginning at a young age, his family introduced him to the world of art. At age five, with his family new to New York and exploring the city, he first visited the Metropolitan Museum and MoMA. Back in Athens, where one of his aunts was a tour guide, he learned about the Parthenon, the treasures at the National Archaeological Museum and other archaeological sites. At home, too, the arts held a place of importance. "I come from a family that was in love with the arts, both the visual arts and music," he said. "My first cousin is one of the most highly acclaimed opera singers in Europe, Tassis Christoyannis."
His family also believed in philanthropy and giving back to the community. "From when I was young, I saw my parents give freely, mostly to Greek causes, whether that be the local church or a Greek American child that needed medical services," he explained.
He started to draw at school, and teachers recognized his talent, but a possible career in finance was starting to take shape and Petrides found himself again inhabiting two worlds. Graduating from Harvard College in 1985, he began working as a mergers and acquisitions banker. He went back to Stanford to obtain dual degrees, an MBA and an MA in the economics of developing countries, graduating in 1993. At Stanford, in 1992, he and current Prime Minister Kyriakos Mitsotakis co-authored a paper on taxation in Greece. He continued rising through the ranks on Wall Street to managing director at Donaldson, Lufkin & Jenrette and later ran his own boutique firm. 
While working on Wall Street, he would squeeze in art classes some evenings and weekends, starting with an oil painting class in the late 1990s and then attending, off and on, the New York Studio School starting in 2000. Now, twenty years later, making art has emerged as his daily pursuit. He is a successful professional artist, having shown sculpture, painting and drawing in New York, Athens and Mykonos. 
Petrides has been characterized as a contemporary, abstract figurative sculptor, and his works often take their inspiration from Greek art, particularly from the Archaic period. Working at first with live models, he often asks them to take poses inspired by ancient works; he creates the initial form in clay or plasticine or plaster. Later, he works alone on the piece, layering on different materials and then carving into the layers to achieve the form and emotion he wants to capture. His art evokes both the ancient and the contemporary, once again straddling two worlds. His work can be seen at www.petrides.art and on Instagram @petrides.art. A book about his art, The Beauty of Imperfection, was recently published and is available for free download or purchase on his website.
His philanthropy has also continued, evolving over the years. Now, it often intersects directly with his artwork. "With my next two exhibitions in Greece, one in Mykonos in October 2020, and the next in Athens, I'm giving part of the proceeds to support women's health at the Aretaieion Hospital, part of the University of Athens," Petrides said. "On my visits there, I was impressed with the quality of the professors and students. The state of the facilities also made an impression, but not in a good way. They needed help."
He has also learned to make his giving more targeted to causes important to him. In New York, he often donates to as many as a dozen organizations in a given year, and he tweaks the list of recipients each year to reflect changing interests and how well he thinks the funds are being employed. Many of the recipients are arts related, ranging from the Metropolitan and the other major museums of New York to small foundations that give grants to artists.
Petrides acknowledged, however, that that kind of targeted giving takes time and effort. "That type of philanthropy is almost impossible if the donors are focusing on a country where they don't live full-time, like Greece," Petrides explained. He pointed out that that's why finding a reputable grant-making entity, which partners with smaller organizations and distributes funds to them, can be invaluable. "The Hellenic Initiative is the perfect example of an entity doing this correctly. Generally, I worry that umbrella organizations become unfocused in selecting causes or in monitoring the outcomes," Petrides said, "but THI is one of the exceptions. It's the only grantmaker that I give to. I am certain that it should be the 'first stop' for anyone interested in Greek causes and probably the only stop for someone who is not set up to do targeted philanthropy in Greece."
The reason, he explained, that they are able to make that model work is because of the dedicated staff: "The hidden asset of THI is the management team, led competently by Peter (Peter Poulos, Executive Director). In my own dealings with them, I have been convinced of their talent and their commitment to the causes." He pointed out that they are aided by a large and sophisticated board that provides them with the breadth of knowledge and experience to cover areas from medical needs to hunger relief to educational assistance. "It's essential to have people who are trustworthy to vet possible giving opportunities," Petrides said. "They do a superb job of allocating money for programs all over Greece and monitoring the use of funds."
Petrides hopes that THI will help to encourage more people to donate to Greek causes, regardless of the level of giving. "What's visible in Greece are the very large donors who have funded entire institutions: Goulandris, Niarchos, Onassis, Latsis, Leventis, Vardinoyannis," he said. "That's wonderful, and I hope that it inspires middle class people to see philanthropy as a part of their daily life, just as my parents did before me and I do now, and as I encourage my daughter to do." He anticipates that the annual funds THI raises will go up each year as donors understand how well run THI is and how worthwhile the causes are. "If you are giving to THI," he said, "I urge you to consider increasing your giving, even if it means reallocating some of your donations from other causes. It's the smart choice."
In addition to giving directly to THI, Petrides is donating a sculpture from a favorite series, "Alex Withdrawn," to be auctioned at the THI Annual Gala on November 12, 2020. For a chance to win the sculpture, you can place your bid here.