Christina Crosby Costaridi Does the Math and Share's THI's Vision for a New Greece
September 25, 2020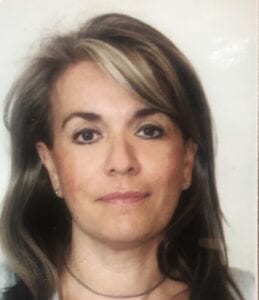 Born and raised in Athens – she revered the view of the Acropolis from her window – Christina Costaridi Crosby was fated to live and achieve elsewhere, but the spirit of Greece beats strongly in her heart, and when she learned about The Hellenic Initiative from Board Member Jeremy Downward she found a home for her can-do patriotism.
Christina was impressed when she was invited to an early Gala in New York, where she had a vision of the power of bringing all the practical experience and money and networks in that room to bear for Greece. "Not just handouts" – although she acknowledges humanitarian aid is also needed – but giving back to Greece in pragmatic ways. "If executives could not build large facilities there, then bring call centers, research departments, etc." But she knows mentorship by THI members and the groups they work with is also very valuable. "Teaching young Greeks to do things for themselves – that is the lasting power of THI … what spoke to me then was the entrepreneurship support."
She knows first-hand the talent and energy THI draws upon because of her decades with top U.S. financial services firms. That was something of a fortunate detour for Christina. She was supposed to follow in the lawyer father's footsteps, but romantic love intervened. Marrying Richard Crosby, a foreign exchange trader in Athens led to a wonderful family with two sons and a surprise career. When they moved to London, she believed they would be out of Greece for a couple of years – that turned into a 32-year hiatus, filled with both longing for Greece and fascinating work. 
Christina's husband was sent to the Far East in the early 1990s and she followed with two-year old and six-week old sons in tow. She joined the multinational division of Chase Manhattan in Hong Kong, undertaking great responsibilities with ATT and Motorola in China. She travelled widely, advising corporate treasurers on liquidity and foreign exchange – navigating the cash positions of MNCs swimming in 25 different currencies. "It was fascinating because it was very difficult to do … and it was remarkable to see China in 1993 … I was there at the creation."
Regarding today's realities, she says COVID-19 has accelerated the process of adjusting to the opportunities and challenges caused by racing technological advances, especially on the societal front. 
"Technology was going to create a world where there are the haves – the technology beneficiaries, and the have nots, who will be the big majority … traditional professions" and job categories are not going to exist. She concludes that "the only player that can come in and create a situation" that is better for the distribution of wealth "is the government. I thought this would happen in 10-20 years, but COVID brought it faster."
She also pays attention to changes in Greece. Christina and her family returned to London in 1995 and from a healthy distance, from frequent visits to Greece, and with the pragmatic approach of the American firms she worked for – JPMorgan Chase, and Citibank, and Goldman Sachs – she has a unique perspective on what the country is going through. She believes that Prime Minister Kyriakos Mitsotakis is off to a good start, but adds "it has to be a multi-year effort. For culture to change, you need time. And you need people to be shining examples from the top and below." 
While she saw the problems unfolding for a long time, she tried to warn about the imminent crash in 2008. When she would say to people "Greece is going to hit the wall," they called her an alarmist, to which she responded: "You don't have to be an alarmist, you just have to do the math."
She believes Mitsotakis "has chosen the right people, with the right credentials, smarts, and abilities for the different jobs. That is the only way to move forward."
And she already sees huge differences since 2010, adding that it is crucial that "THI is supporting an ecosystem of startups that was non-existent … in the past five years … Greece has built a very robust ecosystem. We still have not seen a Greek Unicorn, but we might be close to seeing half-Unicorns."
"The companies are great. They have innovative ideas and we are in a very exciting phase. It only takes one company to take off and then you create a real ecosystem," she said. 
Christina's advice to young entrepreneurs in Greece is "stay and try and to be shining beacons with integrity. It's not only the smart and technologically advanced who succeed … it's the problem solvers. When you are working in technology you have to solve real problems."
And she believes they must have the right motivation. "I have seen scores of young people in Greece who want to be entrepreneurs because it is now fashionable and they want to make money … but that is the outcome, the result of going out and creating something that's about solutions to real problems … in big markets." That is where THI comes in, Christina believes, working with groups that provide mentoring and support.
There are other obstacles, systemic and personal, that need to be addressed. Greece, she says, must overcome the tendency for companies to stay small, never developing economies of scale. "How many companies in Greece have more than 1000 employees," she asks. 
"In Greece everyone wants to be the boss, nobody wants to be number two or three … There is a culture that works against the creation of big companies" – but people can find glory in building departments and divisions in large companies she says. 
Christina believes the efforts of government and organizations like THI must address company size. Part of the solution is for companies to recruit more women, whose egos are not hobbled by such attitudes. She notes that the technology sector "is very macho," and part of that is due to a lack of female engineers, "but you can bring in women in other disciplines, COO, Finance and HR directors," she says. "There can also be grants from THI to reward more female inclusion and grants for women interested in areas like software engineering." And THI can help women get placed in companies like Microsoft and Google. 
She also sees a role for THI as an aggregator/coordinator of the many other Diaspora efforts to help Greece – to maximize total impact. 
Christina 'did the math' in her own life, leaving banking to establish the advisory firm Astir Capital Advisors with her husband, which focuses on technology. "I have dedicated myself for the past seven years to working with managers of firms collectively called alternative investments … we work, invest, advise. We invest our own money in managers and corporations."
And through THI and direct contributions, she invests in Greece.