Vivianna Karamanis, founder of Hellenic Farms, with her husband, Theophilos Tziotis, beam with pride at a display of Hellenic Farms Products
July 6, 2020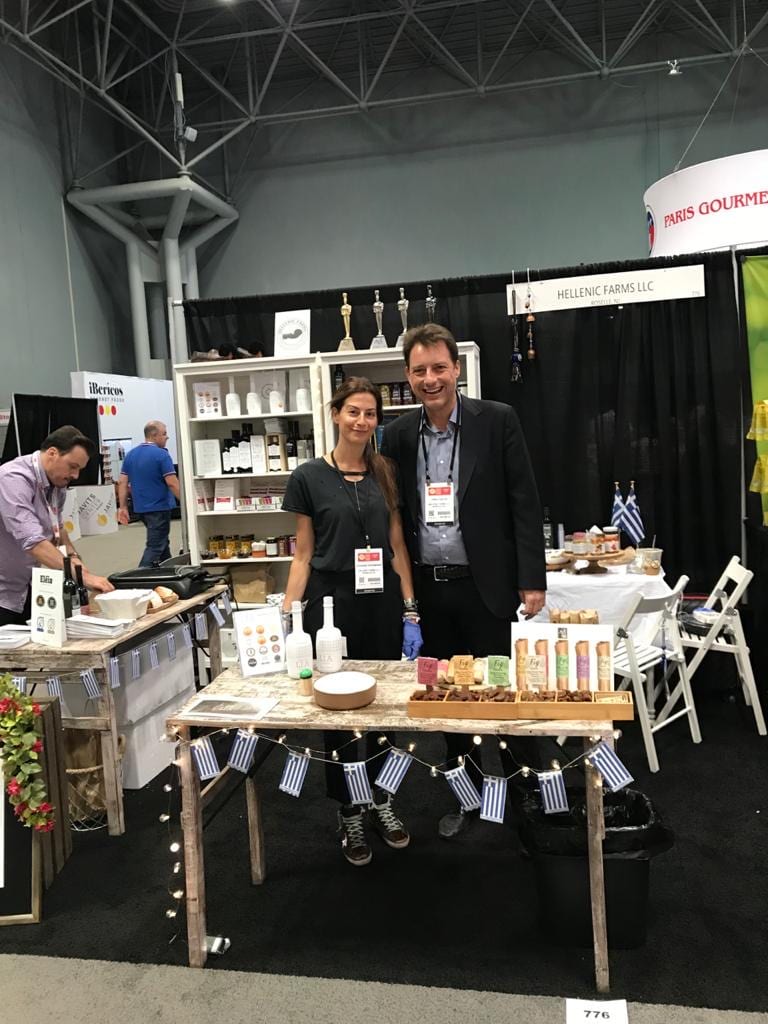 Hellenic Farms seeks unique products of exceptional quality.
Vivianna Karamanis' Delicious Transition
Vivianna Karamanis is part of the burgeoning crop of young entrepreneurs in Greece who are finding success by bringing the best of the homeland to the rest of the world, but unlike most, she is a Greek-American.  
As the founder Hellenic Farms – visit their website www.hellenicfarms.com – she brings food products of exceptional quality to the United States, and by helping native Greek entrepreneurs sell their products abroad, Vivianna found a beautiful way to both make a living and express her Hellenic identity. 
"It gives us a sense of pride. You don't have to speak Greek to keep your Greek heritage," because there are many outlets. "And when you hear all of their ideas, these efforts people are doing and the success stories, and that they are willing to even try when most of us are full of fear to take a step in a new direction," it makes the hard work worthwhile.  
"And the fact that The Hellenic Initiative supports them, especially the younger generation, to go with their ideas … you get goose bumps." And she is delighted to see that Greece's young entrepreneurs get excited when they see there are Diaspora Greeks who want to invest in them. 
"That is the amazing part – the fact that these extremely successful people with THI have come together and are willing to take time to offer some advice to this younger generation in Greece that is still learning and is willing to take the risk and step into unknown waters – that is exceptional."She learned about THI from Father Alexander Karloutsos and his daughter Olga – and when she was asked by Peter Poulos to put together a gift basket of her gastronomic treasures for an auction. "I put a nice basket together of some of our favorite products."
Their product line begins with what Vivianna calls the classics: Extra virgin olive oil, red peppers, Kalamata olives, and green olives from Halkidiki. "But then we have more unique products. One of our best sellers is our fig salami – packed like a salami, it's done exceptionally well and it's the perfect cheese addition!"
Her gift for hunting the interesting and fascinating was honed in New York as Associate Producer for the TV newsmagazine Inside Edition, but as much as she loves New York, her heart was tugging in a different direction. 
"I was long-distance dating my now-husband at the time and I told him 'it's not working; I have to move to Greece." Which she did, in 2013. "I came to Greece in a New York state of mind, but it was during the economic crisis, which made it very challenging to find a job."
Later, a simple everyday life experience generated the idea for Hellenic Farms. 
As she transitioned into Athenian life, she enjoyed going to the neighborhood farmers market – the 'laiko' – or the local bodega, "where I found all these beautifully packed products."
"We already knew about the quality of Greece's food products because every summer when my family visited Chios they would send us back with olive oil, tins of honey, and all these herbs and spices." 
And the most amazing tomatoes on Earth. "Yes, my mom makes her own tomato sauce on Chios and now I'm having her package it. My next project is to package a caper salad spread from Siphnos island, which I fell in love with. It's unique." 
Presenting unique products is important to Vivianna because she did not want to enter the markets with existing, well-known products. "We really try to find unique products that showcase Greece. That is what we do that is different from everyone else."
She also decided "I would reach out to smaller, family producers and speak to them about bringing their products to the U.S. I also realized it was better to work with the younger generation. They were so open and willing and they made great partners."
Her husband – Theophilos Tziotis, who is a real estate broker in Greece and helps find investors for Greece – was also helpful.
Vivianna found that in America you can sell the Greek mystique, the magic that flows from the land and sea to the country's venues and products. 
"I never wanted to sell to the Greek markets in the U.S., but to the other markets – that's where it was missing." 
Hellenic Farms has been successful in placing Greek olive oil in stores like Whole Foods, and "different products in so many stores," she said.
"And we make sure that with our partners, from beginning to end everything is done in Greece and is grown in Greece – financially it makes more sense to send in bulk to the U.S. and package it there, but I don't want to take away work and jobs from Greek people. Especially given we started during the crisis."
They now 'private label' their items while also working with companies like Navarino Icons, LIA, Eleia. And Daphis and Chloe – "they have wonderful culinary herbs and spices that are some of our best sellers, and it's another woman-owned business," Vivianna said. 
She tries to work as much as possible with women entrepreneurs, as well as young people and is very excited and hopeful about generational change as the gateway to a brighter future for Greece. 
Many people now call her about their products and she regrets she can't accept all of them. Nevertheless, she tells them, "I will give you an hour of my time to explain to you what you need to do with the FDA or what pricing you need to have." 
No one did that for her, but Vivianna said, "I find it very important for me to do."