Valef Yachts – Getting People to Fall in Love with Greece One Cruise at a Time
November 4, 2019
There are many ways for young entrepreneurs to help build the New Greece. In addition to inventing new products and services and creating new industries, existing firms can expand and broaden their horizons – especially the children of company pioneers. That is what Alexandra and Kassandra Lefakinis are doing with Valef Yachts, which was founded by their father Vassilios (Bill) Lefakinis in 1969. Their love for Greece and appreciation for its young entrepreneurs also drew them to the Hellenic Initiative, offering their renowned luxury yacht vacations as a Gala silent auction prize this year.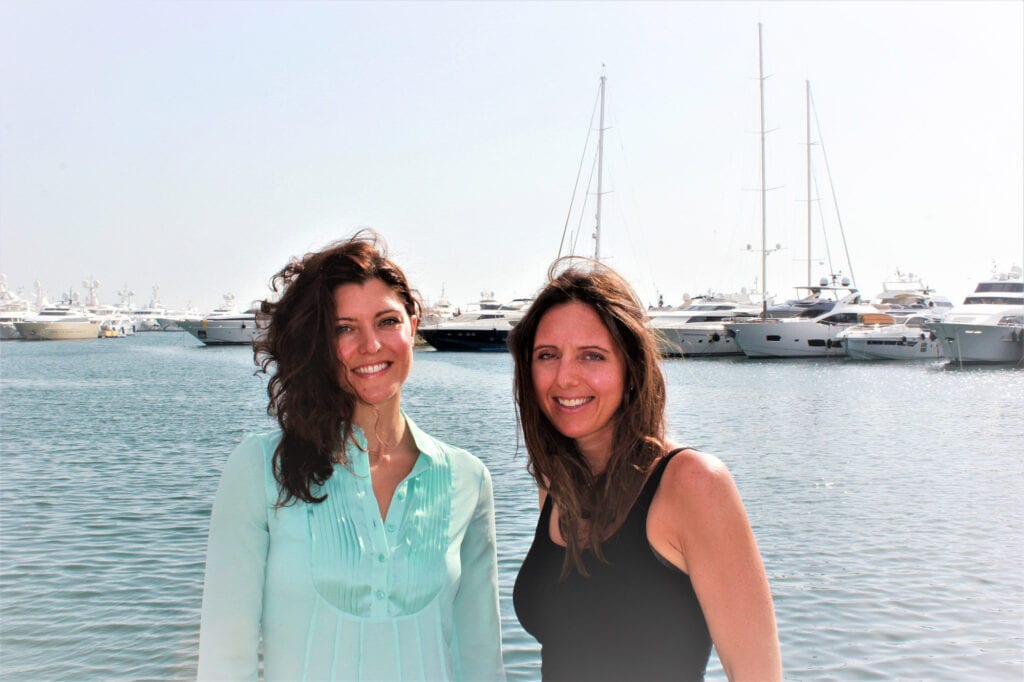 The two are so in tune with their mission to help Greece and their family's company that they sometimes finish one another's sentences as they inform that Valef continues its founder's commitment to bringing Americans to new places in Greece, and a conversation with the sisters generates a magnetic attraction to all the islands they talk about.
"That is what we push for…everyone talks about Mykonos and Santorini…and they know about the 'shipwreck beach' on Zakynthos – but our job is to steer them away from that…we want them to be open to everything and to enjoy Greece wherever it is they go…It is our job to educate them," Kassandra said, with Alexandra adding that "we say to them 'those places are great, but you don't know about Koufonissia, Schinousa, Folegandros, and the Ionian islands…and did you know the sunset on Milos is just as nice as on Santorini' – Milos ends up being everyone's favorite island."
They make sure that one member of their family meets every single one of the guests so that everyone is comfortable – especially if they are from the U.S. Clients know they can trust fellow Americans who are looking out for them.
Their pride extends beyond their company, noting that "Greece is now considered to have the top crews in the Mediterranean," Alexandra said, with Kassandra adding that "their professionalism combines with the philoxenia that is in the Greek DNA and blood. The clients return to the U.S. with the feeling they really gelled with the crew."
Clients say, "we ate so well on board we didn't want to leave the boat – and 'oh my God the crew were like family…we didn't expect it…they were so amazing," Kassandra said, adding that "when they part they cry and hug each other."
Valef helps guests plan, and also provides flexibility, producing magical experiences that result from a combination of design and serendipity. "It's nice, Kassandra said, "when you discover something other than what Google told you to do."
The potential for even more tourism from America is tremendous, especially if Greek-Americans bring their non-Greek friends to their beloved villages and islands – and both Greeks and non-Greeks together can see the Greece they don't know through outfits like Valef.
And the sisters turn every client into Ambassadors of Greece – as they believe all Diaspora Greeks should be.

THE VISION AND PASSION IS HOME GROWN
"Our father, an only child with roots in Constantinople born in Athens, was an entrepreneur from the start and went to America at the age of 13," said Kassandra, eventually putting himself through the Wharton School.
After school, Bill Lefakinis became a top salesman, selling water filtration systems throughout the Middle East, meeting royalty and government officials. When it was time to move on to something new in the late 1960s, he wondered what he could do in Greece with all his contacts and experience.
He and his friends talked about what their country had to offer the world that they could provide, and they realized the Greek Islands were a powerful magnet.
Alexandra said his friends appreciated that Bill knew the American market and could bring people over, and Kassandra continued, "he convinced his friends to give him their boats to charter out to tourists and 'see how it goes.'"
It went very well, indeed. His first client was Kenny Rogers, the first of many American celebrities, who, when they asked "who do I talk to about visiting Greece, the answer was "go to Bill Lefakinis." Word of mouth eventually reached the Beatles, Bruce Springsteen, Hugh Hefner, Miss Universe and many others.
He always emphasized, "let's advertise Greece: 'Greece, Greece, Greece…when we bring them [the celebrities] they're all going to see it," Alexandra said.
While on his own journey creating journeys Bill met his wife. "Very American – Daughters of the American Revolution" – Kassandra said, with Alexandra adding "she met our dad through the same word of mouth – she was 24 and always wanted to go to Greece."
Their mother is very invested in what Valef was doing, eventually becoming president of the company.
After college the sisters discussed the future and living in Greece. "We realized," Kassandra said, "this is the best job to have in Greece." Starting out by helping their parents, they decided they needed to take over the Greek office full time and moved to revamp everything and boost their competitiveness.
Valef's offices were just moved from Zea in Piraeus to Alimos on the Athenian Rivera – a phrase that if Bill didn't coin, he certainly helped spread.
After they learned about The Hellenic Initiative, their friend, actress Gina Varela, introduced them to Peter Poulos. "It was really nice to meet him, and we really liked the idea of what they were doing. I liked the 'oli mazi' spirit and the 'giving back'…and they were really hands on, helping families in need. And I loved the fact it was the Greek-American community" helping Greece, Kassandra said, with Alexandra adding, "to help bring back strength to Greece."
They also love THI's support for young entrepreneurs, of which Kassandra is one. She and her husband established Opuntia Luxury Oils. "In the midst of the crisis we created luxury skin oils made and packaged in Greece, using as much Greek material as possible."