A #THITalk with a one of our donors, Lia Bellas
April 2, 2018
Evangelia (Lia) Bellas – Senior Manager, Global Performance Manager, Unilever
Lia was born in Australia and currently lives in London.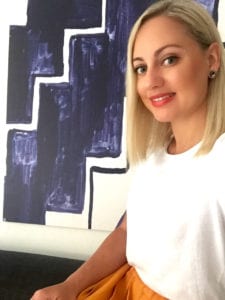 "I was born in Australia and so were my parents, but my grandparents were all migrants from Greece. Retaining culture, language and tradition was essential as they embarked on a new start in life. While I am every part Australian I am every conscious of my roots and what it means to be Greek, and showing kindness 'filotimo' to others is a way of life for me. While I played cricket on the beach every Australian summer I also studied Hellenic Dancing, Modern Greek and volunteered for the welfare of the Greek Community of Brisbane. Saturday's were spent playing sport and then off to Giagia's house for spanakopita lessons which I can't wait to pass onto my own family one day.
I now live and work in London which has enabled me to focus on my interests such as art, travel and fashion blogging but most of all exploring more of Greece. Proximity to Greece has led me the four corners of Greece my grandparents migrated from, Rhodes, Kastellorizo, Kythera and Monemvasia -and I love Athens in the winter for its food and art scene and of course the music. Its ability to be so Greek and international at the same time is a credit to Greece.  
Wherever I am in the world I pride myself of being Greek, whether it's telling a story about my Grandparents and the old Greece or about own adventures in the new Greece or that dried oregano is what really makes an authentic geek salad! Whatever it is, I feel a sense of duty to keep Greece's culture alive and to help it thrive. Greece has taught us so much over time and still has so much more to give and that is why initiatives like THI are important for Greece but also for my generation and the ones that follow. We must keep the flame burning on what is one of the most profound and authentic cultures of the world. It's really up to us to remain 'OLI MAZI'."